Remembering the departed faithful
November 1, 2011
No Comment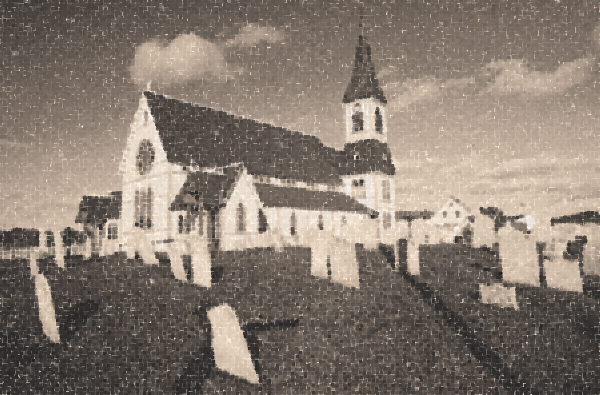 by Robert Bugbee
For all the saints who from their labours rest…
In the old days, especially in villages and out in the country, on your way into church on Sunday, you walked past gravestones. The church had its own cemetery. Sometimes you noticed upturned dirt at a marker where someone had recently been laid to rest. Sometimes your eye caught the name of a loved one who had been a big part of your life. Some names made faces come alive in your head, a former Sunday School teacher who lived well into her 90's, a guy from your youth group cut down one Friday night in a car accident as a teenager, a mother taken from her growing children after struggling with cancer. Seeing those names and recalling those faces can make you feel empty when you think of someone you lost. It can make you smile at the memory of funny things the person did or said. Above all, the sight of those silent markers makes you reflect a bit.
Most congregations don't maintain cemeteries anymore. In the fall of the year around early November, however, some make a point of commemorating members of the church family who have died. During the Divine Service many actually read out the names of those the Lord called away in the previous year. Hymns like Behold a Host (LSB 676) or For All the Saints (LSB 677) celebrate their glad triumph. They also call forth tears when you sing them remembering some dear one you loved … and lost.
What kind of reflecting will help when you remember your "blessed dead" who have gone to be with Christ? First of all, the things Jesus does for His children should be front and centre. It's often a weakness in funeral sermons that the preacher goes on and on about the virtues of the person being buried, almost as though he or she was "star of the show"! (I recall a funeral I attended years ago where the pastor carried on this way. Afterward, an aunt of the man who died whispered to me, "You know, vicar, I think I knew Fred better than the pastor did!")
Your remembrances of the blessed dead at this time of the year should focus big-time on Jesus: Christ died to save (1 Peter3:18)! Christ came alive to win victory for His children (Romans4:25)! Christ has gone ahead to prepare a place for them (St. John14:2)! That's where authentic comfort comes from, along with the confidence that God will take care of you who may still struggle with grief (1 Thessalonians 4:18).
Remember well some of the departed faithful the Lord placed around you
There are valid reasons why modern-day congregations don't maintain cemeteries. Still, we have often lost the healthy nudge Christians used to receive by walking past all those grave markers on their way into church. What a sweet picture it is: a church building, attended on Sunday by worshippers hearing, praying and singing, surrounded by the resting places of many who used to do the same thing at that location! It's a snapshot of the "church militant" (the believers still struggling in this world) and the "church triumphant" (those who have victoriously endured those struggles). It's a scene that reminds you that those who went before are not lost to you, but are still part of that great holy family created and held together by Christ Jesus our Lord.         
That's not all the reflecting on the departed faithful you can do at this season. Some wise person called the Holy Christian Church "the only true democracy." While many societies—including those we call "democratic"—stop counting your vote after you die, men and women who died in the faith of Christ still have much to say. Their voices and influence are a gift that keeps giving. Their words can live in your memory, offering direction and help long after they left you. The bravery they showed by enduring tests often harder than anything we have faced teaches you how God can help you bear up in a way you never imagined. The courtesy they displayed in dealing with others, the honesty that marked their relationships, their humble spirit that placed the spotlight on Christ, are strong messages they keep sharing even beyond their spoken words, even years after they died. God continues building up His people with their contribution. Even when you honestly face their weaknesses, sins and failures, it's a comfort to realize how the Lord stands ready to do so much good through real people … not perfect people, but real people. They are not mere names on a stone or memories in your head. They show how the Bible's words concerning Abel have come true, "…by faith he still speaks, even though he is dead" (Hebrews 11:4 NIV).
In this goofy time when we're tempted to think that immediate relevance is the only test of worth, I encourage you—in church and at home—to remember well some of the departed faithful the Lord placed around you, to take them by the hand, walk with them, listen to them and, above all, to cling to the Jesus who makes us one!