Restructuring Update: Proposed New Bylaws of LCC
April 19, 2017
2 Comments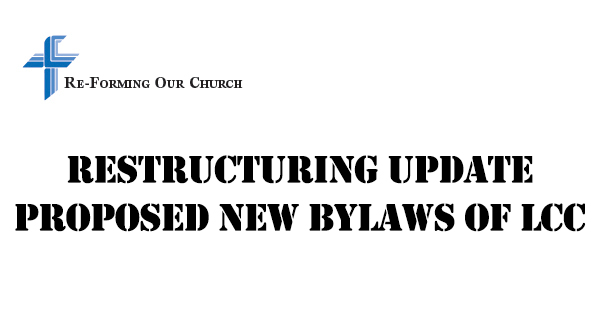 CANADA – The Commission on Constitutional Matters and Structure (CCMS) has completed and placed the proposed new Act and Bylaws for Lutheran Church–Canada (LCC) online. Download the proposed bylaws here. [Note: An unfinished draft version of the bylaws was inadvertently posted when this news story went live. The link now leads to the correct, finalized version.]
Eleven regional convocations are being planned in order to give the whole church another opportunity to give input to the CCMS before the final bylaws are written. From the beginning the CCMS has sought to build this new structure based on input from the congregations, pastors, and deacons of LCC. Information on attending the two electronic convocations will be shared online at a later date.
Region
Convocation City
Hosting
Congregation
Date
Time
Vancouver
Cloverdale
Zion Lutheran
April 29
1:30 – 4:30
Vancouver
Kelowna
First Lutheran
May 6
1:30 – 4:30
Calgary
Calgary
Prince of Peace
June 10
1:30 – 4:30
Edmonton
Sherwood Park
Bethel Lutheran
June 10
1:30 – 4:30
Regina
Saskatoon
Faith Lutheran
June 11
4:00 – 8:30
Regina
Regina
Grace Lutheran
May 13
1:30 – 4:30
Winnipeg
Winnipeg
Saint James Lutheran
June 17
1:30 – 4:30
London
London
Faith Lutheran
May 27
1:30 – 4:30
Toronto
Mississauga
Christ Our King
June 3
1:30 – 4:30
Electronic
Winnipeg
LCC Boardroom
June 18
1:30 – 4:30
Electronic
Winnipeg
LCC Boardroom
June 19
1:30 – 4:30
You will also find online a paper that I have written in response to countless questions as to "why" Lutheran Church-Canada is restructuring itself and why the CCMS has completed such a major restructuring rather than just "tweaking things a bit" as some have suggested. You may wish to read that paper also in connection with your reading of the new proposed Bylaws. Download the paper here.
It is important for all to understand that these new Bylaws are not written in stone yet but rather soft clay, so to speak. From the beginning the CCMS has sought the input of people across the country in LCC in order to determine what would be the primary pillars of restructuring upon which the CCMS would build a new structure. Now, we want to make sure that the structure that will be presented to the Convention in October this year is what the majority of members of LCC would like. Therefore, you are not just invited, but strongly encouraged, to attend one of the above scheduled Convocations so that you may had your voice to further guide the CCMs in finalizing the proposed new Bylaws.
One other note:  the new structure shows that the CCMS is recommending eight Regions but only four Regional Pastors to begin with, even though the Chart shows eight Regions and eight Regional Pastors. Thus, each initial Regional Pastor would cover two Regions and work with two (instead of one) Regional Councils. Download a document on the proposed regions here.
This is being put forth for financial reasons. Having done a study of the financial implications of the restructuring, it became obvious that at least at the beginning of the new structure, we would not be able to afford more than four Regional Pastors. We will be prepared to discuss this further at the Regional Convocations.
———————
Rev. William R.A. Ney is Chairman of Lutheran Church–Canada's Commission on Constitutional Matters and Structure.
More information on the restructuring process is available here.