Rivalry and racing: Reviewing Rush
October 16, 2013
No Comment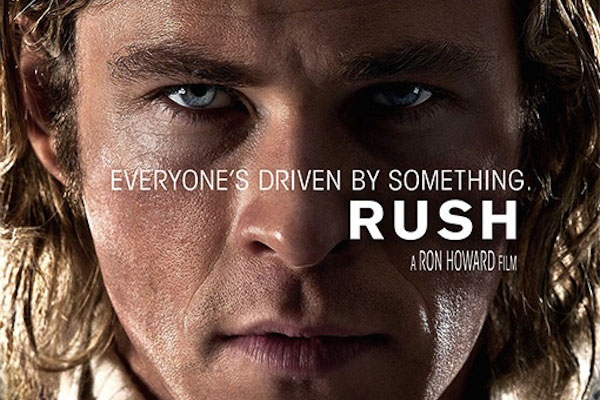 by Ted Giese
Most movies have a tag line, a catchy phrase that sums up the film and gives the potential audience a good idea of what they're getting into. The tag line for the film Rush—"Everyone's driven by something"—is kind of clever since this movie is about Formula One car racing. Yet there is another thing this film is about and the tag line points in this direction too: Rush is ultimately about rivalry, rivalry between Formula One race car drivers James Hunt and Niki Lauda.
Much like in his other films Apollo 13 and A Beautiful Mind, Director Ron Howard is again in the territory of "true story" with Rush, but this film is not a docudrama. Howard balances nuts and bolts details with the desire to make an engaging film, so don't expect everything to be historically accurate. As a director, Howard is skilful at making "mid-brow" drama, a film style that has taken a back seat in recent years. Rush is not a high-brow affair and often veers into film clichés that will leave some viewers rolling their eyes. But many won't care since using clichés in this style of film is a kind of story-telling shorthand.
Rush also has many of the "obligatory" elements regularly found in a drama geared toward an adult audience: sexual content, nudity, adult language, and a couple very brief images of gore. The film's story of rivalry could have been told without these elements (or with fewer of them) and have proven just as effective. Much of what the filmmaker was trying to accomplish by including these elements could have been achieved through inference and suggestion. This would have broadened the general appeal of the film. That being said, once some of the language and nudity is cleaned up for cable this movie will likely live on for a long time.
The storytelling style is relatively straight forward yet it is atypical for a sports film. It starts with a strong focus on James Hunt which gives the impression he will be the central character. This is not the case. Along the way the film shifts gears to focus on Niki Lauda who becomes the central protagonist with Hunt as his foil. Many sports films deal with overcoming adversity and, while that's kicking around in this film, it is really the secondary plot since the main focus is set firmly on the two drivers and their relationship with each other.
James Hunt and Niki Lauda were famous race car drivers in the 1970s and the film mostly focuses on the competition for the 1976 Formula One World Drivers' Championship. Lauda won it in 1975 and would win it again in 1977. Both men desperately wanted to win it in 1976. The Formula One World Drivers' Championship is determined by a point system based on a driver's wins and finishing positions on the international F1 Grand Prixcircuit. The movie follows the on-track and off-track rivalry between Hunt and Lauda as they accumulate these points toward victory.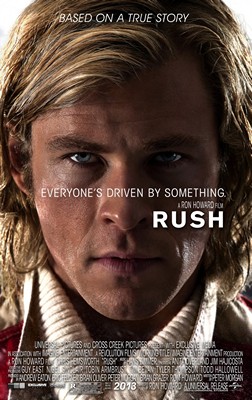 Their rivalry started earlier in the F1 feeder leagues where they first met.Hunt was a hard-living womanizer and dare devil. Early on the film, he provides his philosophy of life when he says, "The closer you are to death, the more alive you feel. It's a wonderful way to live. It's the only way to drive." Lauda, on the other hand, is more interested early on with proving himself to his father and family who were bankers and politicians in Austria. While Hunt gets by on charisma and guts, Lauda's success comes from careful calculations of risk and reward, as well as superior knowledge of F1 car and engine design.
The rivalry theme might remind Christians of some famous biblical rivalries, like brothers Jacob and Esau, or Saul and David who were both anointed King of Israel. The film explores a subject deep down in the heart of many rivalries, biblical or otherwise: most are driven less by the activities and actions of another person and more by personal ambition and feelings of insecurity. There is a selfishness to this kind of behaviour. Keeping this in mind, what does the Bible say about rivalry and personal ambition? St. Paul in Philippians writes, "Do nothing from selfish ambition or conceit, but in humility count others more significant than yourselves" (Philippians 2:3).
Generally, both Hunt and Lauda come off as unlikable characters; they are humility-challenged and quick to remind each other of poor character traits and personal sins. In the end, each character experiences personal growth as a result of interactions with the other. At one point Lauda says to Hunt, "A wise man learns more from his enemies than a fool from his friends" Although this sounds like something King Solomon wrote in the book of Proverbs, it isn't. What both men learn from each other is the ability to see the line between the need to win and the cost of losing. When life and death are on that line and risk is great, there comes a time when a person needs to pull over and turn off the engine or risk losing body and soul, wife, family, possessions, reputation, and every kind of "daily bread" God gives.
There is a notable moment of forgiveness and mutual admiration between Hunt and Lauda following a harrowing accident at the 1976 German Grand Prix in which Lauda was injured after losing control of his car under challenging weather and track conditions. When Lauda finally returns to racing later that season, Hunt approaches him and says, "I feel responsible for what happened." And he was. Hunt had influenced a vote about cancelling the race due to the dangerous track conditions. His devil-may-care attitude and personal rivalry with Lauda got the better of him. Lauda replies to Hunt, saying, "Trust me: watching you win those races while I was fighting for my life, you were equally responsible for getting me back in the car."
The author of the letter to the Hebrews writes, "Let us consider how to stir up one another to love and good works" (Hebrews 10:24). While Lauda wasn't necessarily being stirred towards love and good works, he was given the will to overcome his injuries because of his relationship with Hunt. Does the movie make more of this than in real life? It's hard to say, but it looks like this series of events contributed to their changed perspective on racing and life. Did Hunt and Lauda suddenly became better people, with all their troubles instantly disappearing? No. The film leaves them as rivals, closer rivals perhaps, but still rivals in their minds if not on the race track of life.
Is Rush the best car racing film of all time? No. Rush is middle-of-the- road Hollywood. There is some nice cinematography which adds to the excitement of the race scenes, but for a car racing film there are not as many races as you'd expect. This film is really about Hunt and Lauda and their prickly relationship with each other and with themselves. Rush is a good example of how there are relationships people actually have with each other, relationships they think they are having with each other, and how these two categories often don't match up. Underneath the standard Hollywood conventions, Rush illustrates this Biblical truth: "Iron sharpens iron, and one man sharpens another" (Provebs 27:17)— even if they don't particularly like each other.
———————
Rev. Ted Giese is associate pastor at Mount Olive Lutheran Church in Regina. He reviews movies for both The Canadian Lutheran and Issues, Etc.