Rural and urban outreach in Nicaragua
August 26, 2011
One Comment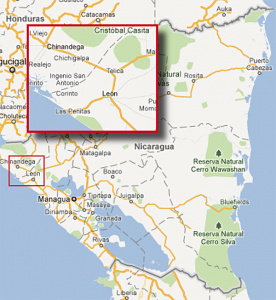 A few kilometres north of the Nicaraguan city of Leon is the town of Telica. With a population of less than 20,000, Telica became the focus of outreach for LCC missionary Pastor Maximo Urroz in 2010. In a report to Lutheran Church–Canada in July the pastor noted that currently about 80 people gather for Bible study on Wednesdays and many are interested in studying more about the doctrines of the Lutheran Church. In addition, an ongoing children's outreach sees 25 children gather weekly to hear about the love of Jesus.
The mission in Telica receives assistance from the Lutheran Hour Ministries office in nearby Leon which supplies printed material, for which Pastor Maximo is very grateful. He also uses the Good News magazine, published by Lutheran Heritage Foundation, to provide adult readers with a deeper understanding of the Christian faith. Despite the availability of these resources, Pastor Maximo says he could still use more, including educational material, notebooks, crayons and pencils.
"It is difficult for us here in Canada to understand the deep thirst the people of Nicaragua have for God's Word and for the Gospel," explained LCC's mission executive, Rev. Dr. Leonardo Neitzel. "As people hear the Gospel they respond in faith and discover that God loves them."
Redeemer Lutheran Church in Waterloo,Ontario purchased land in Telica and two mission teams have begun construction on a church for the growing mission.
Meanwhile, in Troilo a farming community about 30 km east of Leon, the pastor teaches the Bible as part of the school's curriculum and meets with about 25 people to study Lutheran doctrine.
The most difficult area of the pastor's mission field is the city of Leon. With a population of more than 170,000, it is the capital and centre of commerce for Leon province. Here, the pastor meets with 12 adults on Saturday mornings for Bible study and prayer.
"Like so many larger centres, people have busy lives and don't want to take time to hear God's Word," said Dr. Neitzel. "Our missionary finds this very challenging because it is such a contrast with what is happening outside the city."
As the mission work of LCC in cooperation with Iglesia Luterana Sínodo de Nicaragua continues, Dr. Neitzel encourages members of LCC congregations to keep these exciting developments in their prayers, asking God to continue His blessing upon the proclamation of His Word.