Seminaries celebrate graduations and placements
In two annual events Lutheran Church–Canada received five church workers and sent an additional six into the field for a year of vicarage in preparation for the pastoral ministry.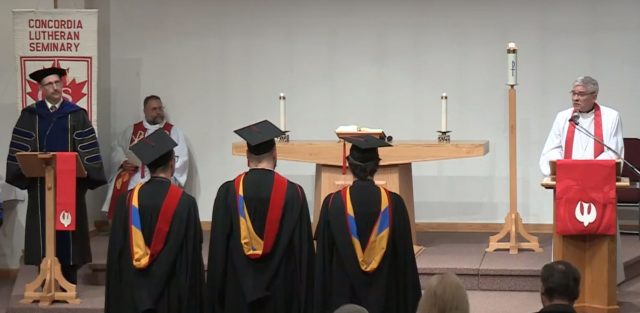 Concordia Lutheran Seminary, Edmonton held its Sacred Convocation, Thursday, May 24 at Bethel Lutheran Church in nearby Sherwood Park, Alta. During the service three men received their Master of Divinity degrees and accepted placements in parishes:
Scott Brayall Faith, Grand Prairie, Alta.
Kai Buck Peace, Trail/St. Peter, Castlegar, B.C.
Andrew McDonald, Lord of Life, Kamloops, B.C.
In addition, Lenora Wallden received certification as a deacon (Director of Parish Services) and will continue her service at Holy Cross Evangelical Lutheran Church in Kitchener, Ontario. CLS is now taking the lead in preparing deacons for service in LCC, although students can study at either seminary.
On Saturday, May 26, Concordia Lutheran Theological Seminary (CLTS), St. Catharines, conducted its annual Call Service at Christ Lutheran Church in St. Catharines. During the service the seminary presented candidate Insub (Isaac) Paik, who studied as a colloquy student for the past year, as eligible for a call in an LCC parish.
"We thank God for these gifts to the church He has given to us," noted President Timothy Teuscher. "Please join me in praying for these servants of the Word as they begin this new phase in their lives."
During the two events, six seminary students received vicarage assignments:



Jazmin Kurtenbach

Adam Chandler (CLS), Trinity, Winkler/Zion, Morden, Man.

Travis Heide (CLS), Redeemer, Kitimat, B.C.
Peter Knelson (CLS), Hope, Port Coquitlam/Mount Calvary, New Westminster, B.C.
Joshua Kurtenbach (CLS), Redeemer, Didsbury, Alta.
Vishal Kumar Paul (CLTS), Redeemer, Waterloo, Ont.
Mark Rekken (CLS), Prince of Peace, Calgary/Lutheran Church of the Good Shepherd, Calgary, Alta.
Following their vicarage internships, they will return to the seminary to complete their studies.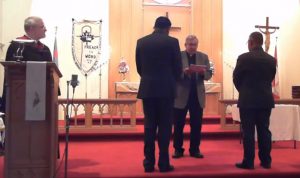 Both seminaries honoured members of LCC's family with special awards. CLS presented Ellen Raflaub with its Friend of the Seminary award recognizing her tireless efforts supporting students and their families through the Seminary Guild. In St. Catharines, CLTS presented its Delta Chi (Servant of Christ) award to Rev. Nolan Astley. The hnour recognizes service to Christ and His Church. Rev. Astley, currently senior pastor of Holy Cross, Kitchener, has served LCC as First Vice-president and Secretary of Synod. The retiring seminary business manager, Mike Bauer, received CLTS' Friend of the Seminary award in recognition of his 18 years of service.
Earlier this year the seminaries reported that in the next three years they expect to graduate 15 students who have prepared for the pastoral ministry.
Replay the services:
Concordia Lutheran Seminary Sacred Convocation: https://youtu.be/qVVh4mManZU
Concordia Lutheran Theological Seminary Call Service: https://youtu.be/8SkfYIT-aM0