Seminaries prepare for annual Call Services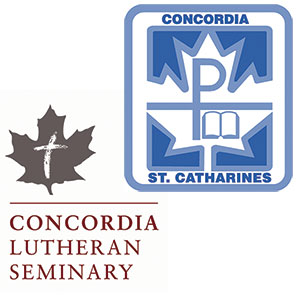 CANADA – Lutheran Church–Canada's (LCC) two seminaries are preparing for their upcoming convocation services, during which time pastoral candidates will receive their first calls. Vicars will also receive their vicarage assignments and one diaconal student will receiver her internship placement.
Concordia Lutheran Seminary (CLS – Edmonton) will hold the Sacred Convocation for their 33rd Academic Year on Thursday, May 25, 2017 at 7:00 p.m. in the Robert Tegler Student Centre of Concordia University of Edmonton. Rev. Dr. Karl Keller will serve as guest preacher for the event. The seminary will recognize the first call of one pastoral candidate (Will Rose), the vicarage assignments of five vicars (Shiek Lief Mauricio, Michael Mayer, Chris McLean, Kenneth Stadnick, and Alex Timm), and the internship assignment of one Director of Parish Services intern (Lenora Wallden).
Concordia Lutheran Theological Seminary (CLTS – St. Catharines, Ontario) will hold its annual Call Service a few days later on May 27, 2017 at 4:00 p.m. in Grace Lutheran Church, St. Catharines. Rev. Dr. Wallace Schulz, former speaker of The Lutheran Hour and father of one of the graduates. The seminary will recognize the first call of three pastoral candidates (Andrew Cottrill, Kirk Radford, and Paul Schulz) as well as the vicarage assignments of one vicar (Matthew Fenn). CLTS will be live-streaming their service online. Follow along at https://livestream.com/accounts/771825/events/7431231. A recording will be available online following the event until June 26, 2017).
Details of first calls and vicarage/internship placements will be published by The Canadian Lutheran following the services.
During the ceremonies, the two seminaries will also present awards to a number of honourary awardees. CLTS will present its highest honour, the Delta Chi (Servant of Christ) award, to Reg Tiegs. Tiegs is Chairman of the LCC East District's Board of Directors. The seminary will also present its Friend of the Seminary award to Carol Nagel, archivist of the East District's Malinsky Memorial Archives and a long-time member of the Seminary Guild Executive.
CLS will present the Doulos dia Iesoun (Servant for Jesus' Sake) award to Dr. Karl Keller. This award is reserved for "veterans of the cross"—pastors with a minimum of thirty years of faithful and distinguished service in the ministry. CLS will also present the Friend of the Seminary Award to Myron and Anita Yurko. This award is presented to those who have contributed significantly to the seminary as members of the board of regents, seminary guild, faculty, or staff, as donors, or as volunteers.
———————