Seminaries take first steps toward closer ties and cost efficiency
April 26, 2011
3 Comments
by James Morgan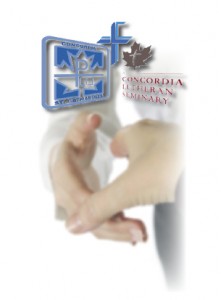 The Boards of Regents at Concordia Lutheran Theological Seminary in St. Catharines (CLTS) and Concordia Lutheran Seminary (CLS) in Edmonton, along with Lutheran Church–Canada's Board of Directors have released a progress report in the form of a letter to congregations, pastors, and deacons on efforts towards developing a Memorandum of Understanding (MOU), to guide the future of seminary education in LCC. The report is the result of the process started by the Task Force on Cost-Efficient, Sustainable Seminary Education and a meeting April 6 in Winnipeg which included the seminary presidents, Board of Regents chairs, President Robert Bugbee, LCC Board of Director's chair Randy Stefan and task force chairman, Rev. Nolan Astley. This current letter is not a binding agreement but a statement of issues upon which all parties have reached agreement while efforts towards a formal MOU continue. READ THE REPORT HERE
The letter lists 11 points of agreement, the most significant dealing with efforts to achieve one system of cost-efficient seminary education. This will include an integrated curriculum and steps to reduce administrative duplication in the delivery of educational and operational services.
The seminaries will also review, residency requirements and transfer credit issues for current and prospective students. Financial issues are behind much of the efforts to streamline seminary education, and to address this concern, the letter states the two seminaries will limit their combined operating budget to $1.45 million per year by the 2012-2013 fiscal year, including an annual contribution from LCC.
The letter contains commitments to improving both recruitment and procedures for donations for seminary education. LCC's Board of Directors will develop initiatives allowing the membership of the Synod to increase support for seminary education and focus on the mutual responsibility to identify and recruit candidates for the pastoral ministry with adequate financial resources to sustain their education. Also, Lutheran Church–Canada Financial Ministries will coordinate development work for endowment funds and large gifts while seminary development staff will focus on regular gifts and relationships with donors.
Two areas require further discussion: establishing a single president, administration and Board of Regents for the two campuses and reducing the combined faculty to five, including the president, by the 2012-2013 fiscal year. Both these outstanding questions echo previously stated concerns by the Regents at each seminary and reflect a response to the task force signed by CLS Board of Regents chair Pastor Paul Schallhorn and CLTS Board of Regents chair Pastor Robert Krestick in January that called for operational unity over organizational unity.
The seminaries will establish a joint committee made up of representatives of the Boards of Regents at each campus to implement the final MOU. All parties involved in the process hope to have the final document completed in time for the Synod Convention, taking place from June 3 to 6 in Hamilton.