Sharing the Gospel through Spanish comic books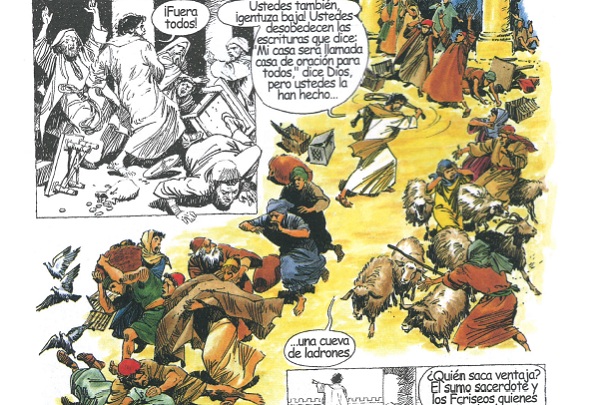 LETHBRIDGE, AB – Special fundraisers and donations recently made it possible for Immanuel Lutheran Church to purchase 10,000 copies of Un hombre llamado Jesus: El vivió entre nosotros ("Who is this man called Jesus? He lived among us"). This Spanish-language 128 page booklet brings the stories and ministry of Jesus as recorded in the Gospels to life in colourful comic book style.
All 10,000 books were purchased through the generous support of the people of Immanuel Lutheran and are available free of charge to anyone who wants to see the Gospel grow. Half of the books were donated to LCC's synodical office in Winnipeg. The books are now en route to Nicarague—courtesy of Canadian Lutheran World Relief—where they will be used by the Iglesia Luterana Sínodo de Nicaragua (Lutheran Church Synod of Nicaragua) and LCC's missions, especially in children's education programs.
"Our gratitude goes to our Lord God for having made available these resources for LCC's missions in Central America," said Rev. Dr. Leonardo Neitzel, LCC's executive for missions and social ministry. "LCC's missions committee would also like to express its gratitude to Walter Egli of Immanuel Lutheran. His tremendous efforts stand behind the entire process of raising funds, printing the books, and having them shipped to Nicaragua."
The remaining 5,000 books are stored in Lethbridge. Individuals visiting a Spanish speaking country for personal reasons or church groups travelling on missions projects to Mexico and similar countries are invited to take some of the books along. They can be handed out to anyone you befriend along the way—a small child learning to read, the woman cleaning your hotel room, or a local church whose pastor would appreciate the resource.
The books are boxed in cartons of 50, each weighing 9.75 kg (about 22 lbs). While Immanuel Lutheran is happy to provide the books free of charge, individuals and groups wishing to obtain copies will be responsible for transporting the books.
To order some of the books, or for more information on the congregation's Nicaragua book fund, contact Immanuel Lutheran Church:
Immanuel Lutheran Church
20 Rocky Mountain Boulevard
Lethbridge, AB  T1K 8E1
Ph: (403) 327-4336
Email: ilchurch@immanuellutheran.ca
www.immanuellutheran.ca