Stand Firm! And see the salvation of the Lord
October 1, 2012
No Comment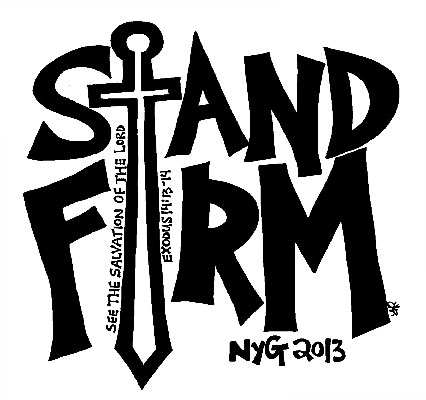 WINNIPEG – The Stand Firm National Youth Gathering committee has been hard at work to create a time for teenagers across Canada to come together and see the salvation of the Lord (Exodus 14:13-14). In a recent meeting, the committee was able to delve deeper as it considers how best to create an atmosphere conducive to "Standing Firm."
In planning for a youth gathering, there is a recognition that youth aren't separate from the Church but are instead an important and integral part of it. The 2013 National Youth Gathering will take place  July 4-9, and will overlap with a Lutheran Hour Ministries Regional Outreach Conference and the celebration of the 25th anniversary of Lutheran Church–Canada as a synod. Holding the events together reminds youth (and other members of the Church) that they all stand firm on the same foundation: the promises of Christ.
There will be several presenters coming to Winnipeg for the youth gathering. The ever popular band Lost and Found will provide musical teachings; These Guys will share God's love through dramatic representations; The Worship Band from Peace Lutheran Church (Winnipeg) will lead us the youth as they praise God with their music; and Dr. Micah Parker will take the main stage to talk about what it looks like to Stand Firm. As a special treat for youth leaders, Dr. John Oberdeck, author of Eutychus Youth, will also be speaking, discussing how to help youth to stand firm.
At its planning meeting, the gathering committee welcomed a new member to the team: Rev. Glenn Worcester from Peace Lutheran, Winnipeg. Rev. Worcester joins the existing committee which includes Deacon Michael Gillingham (DPS, Bethel Lutheran, Sherwood Park, Alberta); Rev. Mark Dressler (St. Paul's Lutheran, Saskatoon, Saskatchewan); Deacon Amanda Knodel (DPS, Good Shepherd Lutheran, Regina); Bill Wardekker (youth leader, Peace Lutheran, Winnipeg); Rev. Mark Danielson (Trinity Lutheran, Fisherville, Ontario); Tony Marchand, (youth leader, Historic St. Paul's Lutheran, Kitchener, Ontario); and Deacon Kaitlyn Roller (DPS, Trinity Lutheran, Fisherville, Ontario).
"We are all so excited about the opportunity to Stand Firm as we gather in Winnipeg, July 5-9, 2013 and we want you to get equally excited!" said committee member Amanda Knoedel. "Join us on Facebook (search for LCC National Youth Gathering), check out our website http://nyg.lutheranyouth.ca/, or talk to any member of the planning committee."
——————–