Student library fines help stock food bank
December 9, 2010
One Comment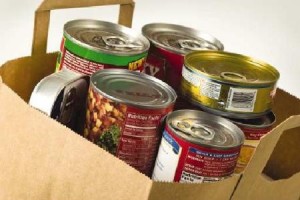 EDMONTON — A program that allows students to pay off their library fines by donating food to the food bank is operating again this December at Concordia University College of Alberta (CUCA).
Under the Food for Fines program, the library forgives $5 in fines – to a maximum of $20 – for every non-perishable item donated to CUCA's food bank.
"The purpose for our Food For Fines program is to provide a positive incentive to get our students to pay their Concordia library fines," said Karen Hildebrandt, library circulation services supervisor.
"Students are more willing to bring in food items which may end up costing them $3-$4 to get $20 off of their fines."
While the program has run since December 2004, 2010 is only the second year food donated by students helps stock Concordia's own food bank.
"The campus now has a student who oversees the food bank and ensures there are food stuffs available for our students in need," said Hildebrandt.
In past years, donations went to the Edmonton Food Bank and the University of Alberta Food Bank.
 Hildebrandt said the program applies only to Concordia library materials.
 The program runs twice a year – from December 1–17 and April 1–23.
 A similar food for fine program runs at the Edmonton Public Library.
 According to local media reports, more people are using Edmonton area food banks. The Edmonton Food Bank, for example, saw a three per cent increase in use over 2009 and is now serving 15,000 people a month.