2015 issue of Lutheran Theological Review now available
November 12, 2015
No Comment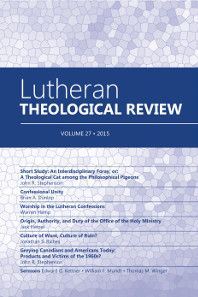 ONLINE – The new issue of the Lutheran Theological Review has just been released and is now available for download online.
Volume 27 is dedicated to recently retired Lutheran Church–Canada seminary professors Rev. Drs. Edward G. Kettner and William F. Mundt. Dr. Kettner was Concordia Lutheran Seminary's (CLS – Edmonton) longest serving professor, having served nearly three decades (1986-2014). He also served as co-editor of Lutheran Theological Review for two decades. Dr. Mundt joined the faculty of Concordia Lutheran Theological Seminary (CLTS – St. Catharines, Ontario) in 2000, eventually becoming Dean of Students (though is involvement with the seminary dates back to 1976). "At the retirement of these two men," CLTS President Thomas Winger notes in the foreword to this volume, "our LCC seminaries move palpably into a new era."
This issue features the following articles:
– "An Interdisciplinary Foray, or: A Theological Cat among the Philosophical Pigeons." – John R. Stephenson
– "Confessional Unity." – Brian A. Dunlop
– "Worship in the Lutheran Confessions." – Warren Hamp
– "Origin, Authority, and Duty of the Office of the Holy Ministry." – Jack Hetzel
– "Culture of Want, Culture of Ruin?" – Jonathan S. Riches
– "Greying Canadians and Americans Today: Products and Victims of the 1960s?" – John R. Stephenson
It also features three sermons, including one each by Drs. Kettner and Dr. Mundt.
– "Preach!" (II Tim. 4:1-5) – Edward G. Kettner
– "Did You See Jesus?" (Jn 1:43-51) – William F. Mundt
– "St. Joseph, Guardian of Jesus" (Mt. 2:13-23) – Thomas M. Winger
Lutheran Theological Review is a joint publication of LCC's two seminaries. Currently the journal is edited by CLS' Rev. Prof. Jonathan W. Kraemer and CLTS' President Winger. Copies are sent free of charge to every pastor in LCC, and paid subscriptions are also available, in addition to being made available online. Download Volume 27 of Lutheran Theological Review here: http://www.brocku.ca/concordiaseminary/LTR/LTR_27.pdf.
———————