The Ladder and the Bridge
February 27, 2013
No Comment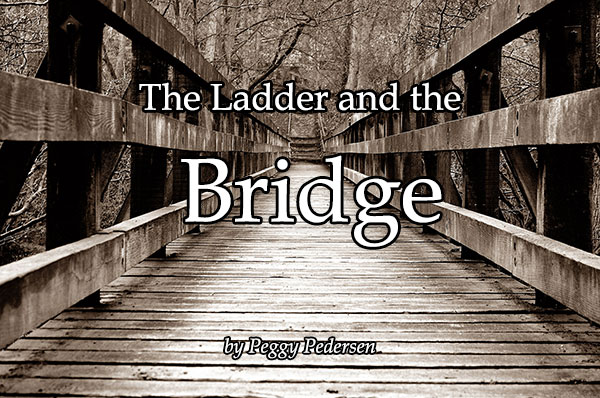 by Peggy Pedersen
Most of us remember that old hymn "We are climbing Jacob's Ladder," but we forget that Jacob did not actually climb that ladder. Instead, the Son of God descended on it to bless Jacob. All religions except Christianity are trying to build ladders to heaven composed of good works. This is what men do. That's why they built the Tower of Babel—to try to ascend to heaven.
Jesus says that He alone is the Way. What does He mean by this? It sounds exclusive and arrogant to most ears. A way? Sure. But the way?
We think of the City of Rome and how there are many ways to reach it. "All roads lead to Rome," as the saying goes. But the distance between man and God is greater than the distance to Rome. An obstacle stands between us and God, and it is unscalable by any human means.
That obstacle is sin. God is holy and righteous, and nothing that is unholy and sinful can remain in His presence. "All our righteous deeds are like a polluted garment," we read (Isaiah 64:6). At the core of sin is self-will, so all our acts of self-righteousness only increase the gulf between us and God.
Still, we do not only do those things which are "good in our own eyes;" we also do things our own consciences tell us are wrong. For God has charged us, "You shall love the Lord your God with all your heart and with all your soul and with all your mind" (Matthew 22:37). This we have not done and cannot do. And having broken this commandment, we have broken them all.
There are two roads humanity takes when confronted with this gulf. One, as previously mentioned, is to attempt to achieve holiness and perfection on our own. There are many choices of ladders available to us: meditation, chanting, almsgiving, asceticism, and good deeds. But the question always remains: "Have I done enough?"
There are many ladders available to us: meditation, chanting, almsgiving, asceticism, good deeds. But the question remains: "Have I done enough?"
The problem is that you never can do enough. If you think you have, then you have added self-righteousness and pride to the things you need to atone for. You can't simply compare your "goodness" to others; the standard we're called to is the perfect holiness of God.
The other road people take when confronted by the gulf between humankind and God is to turn in anger away from God. Sometimes we turn to a more easily-pleased "god" or idol—usually ourselves—, or we choose in frustration to give into disbelief and harden our hearts. Both roads—that of self-righteousness and turning away from the true God—lead nowhere in this life. And in the next leads only to eternal separation from God.
But our Father is a God of love, mercy, and kindness. His love for us, His creation, is beyond comprehension. It is a love that gives all for the sake of the Beloved. So He provides a way of atonement. We cannot ascend to Him so He descends to us. In inconceivable love and mercy, God the Word incarnates into our own flesh and blood in the humblest of circumstances and quietly bears abuse, rejection, and scorn in order to deliver us. Why?
Many ask if there could not have been another way. But only one who was both fully God and fully man could bridge the gap. Jesus Christ is the only incarnate God. In Him—where man's nature and God's nature are combined— the two are reconciled. This is why there is no salvation outside of Christ, and why He alone is the Way. This is why He says, "No man comes to the Father except through me." This is why He says, "I am the gate."
Some of you may be like me and have tried many ladders. And perhaps you've found them all too short or too hard to climb. You have tried to swim the gulf by diving into the dark waters and have become entangled in the nets of false religions, idolatry, or the occult. Maybe you have given up on God entirely, deciding that He is either too far away or too disinterested in you. And your faith has faded first to a distant, imperceptible glimmer before finally dying. As a result, you have followed the epicurean path: "whatever feels good do it, for tomorrow we die." Perhaps you look at your life and the people you've hurt, the sins you've committed, the distance you have gone from God and feel that there is no return; the bridges are burned. You dare not hope God could receive you again or rekindle your faith.
Jesus told a parable about just such a person: the Prodigal Son. You know the story (Luke 15:11-32). Jesus was trying to convey that we have a loving Father who yearns for us to return to Him—even when we've wandered far away. You might have "set the bridge on fire" when you left, or merely let it collapse from disinterest and neglect. But while you have been going your own way, He has been seeking you. And Jesus has done something beyond simply seeking for You: in place of the bridge you thought you burned, He has laid Himself down and become the bridge for you. All who come to it are welcome to cross: "Whoever comes to me, I will not turn away" (John 6:37).
Christ is the only bridge to our destination. No ladder can do what this bridge accomplishes.
Christ is the only bridge to our destination. All who want to be united with the Father must cross through His Son. No ladder can do what this bridge accomplishes. If you are looking for this bridge, you will find it where you always find bridges—by the water, the waters of Baptism. Confession and Absolution reunites you with that water, so no matter how long you have been away or how far you have gone, this bridge awaits you. There is a welcome sign over its entrance: "I have redeemed you. You are mine. You are forgiven".
——————–
Peggy Pedersen is a freelance writer in Victoria, B.C., where she is a member of Redeemer Lutheran Church.