The Changing Face of Canadian Missions: Rising immigration in Canada and the Lutheran response
September 10, 2015
No Comment
by James Morgan
Immigration is an inherent part of Lutheranism in Canada. Historically, most Lutherans in Canada were German, Scandinavian, or Slavic immigrants and their descendants. The Lutheran link to immigration from those parts of Europe is similar to that seen in other faiths (Roman Catholics from Ireland, for example, or Presbyterians from Scotland). Generally, the historic areas of settlement for German and Scandinavian Lutherans in Canada were the Southwestern, Southeastern, and Northwestern regions of Ontario, Manitoba, Saskatchewan, Alberta, British Columbia, and a small portion of Western Quebec. The legacy of these early immigrants stands with us today in the form of historic church buildings, names of communities e.g. Lappe and Augsburg, both in Ontario), and of course in the surnames of members of congregations nationwide. Immigration has shaped the fabric of Christianity and Lutheranism in Canada.
But there have been significant changes in immigration and multiculturalism underway in our country over the last number of decades, and the church is now at the point where it needs to adapt to a very different ethnic reality in Canadian society. The fact is, we are no longer principally a country or church of western and northern European heritage. That's simply not where new immigrants to our country are coming from today. The increased pluralism of races, ethnicities, and faiths in our country has left many Canadians wondering how best to identify themselves—and it most certainly has left the church in a critical position where it has had to adapt its ministries.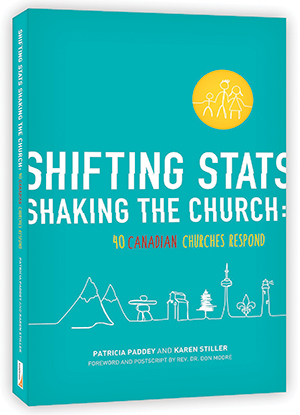 So how are local congregations meeting the challenge? Earlier this year, World Vision Canada published a book on this subject called Shifting Stats, Shaking The Church: 40 Canadian Churches Respond. The book examines 40 congregations of various denominations across the country to see how they are responding to the significant demographic shifts that have taken place, including the shift towards mostly non-European immigration and the differences in language, culture, and heritage.
Among the 40 congregations featured in the book is one Lutheran Church–Canada (LCC) congregation: Immanuel Lutheran Church in Winnipeg. In recent years, the congregation has welcomed a number of Anyuak-speaking people from Ethiopia. Immanuel pastor Rev. Dr. Richard Beinert says the first Anyuak visitors began attending one Christmas and found themselves at home because of past Lutheran missionary influence in their home country. The Anyuak membership of Immanuel Lutheran has now grown to the point that services in that language are conducted regularly on Sunday, and African dishes are as common as perogies at potluck meals.
The Anyuak ministry at Immanuel Lutheran in Winnipeg is led by Oboya Ochalla, who arrived in Canada from Ethiopia in 2003.  A teacher in his home country, he currently works as a security guard in Winnipeg. He is also studying through LCC's Pastors with Alternate Training (PAT) program. The PAT program was established in 2002 to train pastors for ministry within specific cultural and ethnic groups in order to meet the needs resulting from changes caused by immigration in Canadian society. In Shifting Stats, Ochalla explains that he was attracted to the Lutheran church partly because of the liturgy, especially the prayer of institution during Holy Communion, the Agnus Dei, and the post-communion canticle.
Outreach to immigrants isn't just happening at Immanuel either. Cross-cultural ministry is taking place all across Lutheran Church–Canada. Winnipeg is also home to a large congregation of Oromos-speakers (from Ethiopia), led by LCC's first PAT graduate Rev. Assefa Aredo. Another Oromo congregation exists in Calgary.
Another PAT participant, Eduardo Rodrigues, is serving at Faith Lutheran Church in Surrey, British Columbia with the church's Hispanic members. In addition to services in English and Spanish, Faith Lutheran also conducts services in Chinese, Korean, and Satsung for Indo-Canadians. The fact that ministries are offered in five different languages reflects how the church has adapted to the culturally diverse population of BC's Lower Mainland. There is also a separate Korean LCC congregation in Vancouver.
In Ontario, Joseph Singh—a recent PAT graduate who spent the final part of his education at Concordia Lutheran Theological Seminary (CLTS) in St. Catharines—has been called to serve as Assistant Pastor at Our Saviour Lutheran Church in the Toronto suburb of Etobicoke, where there is a significant ministry to Punjabi-speaking Lutherans from India. Toronto is also home to Korean Lutheran Church, located on Sherbourne Street in the downtown area. Nearby in Hamilton, there is a Sudanese mission congregation.
Quebec too is seeing rising interest in confessional Lutheranism among immigrants. In April 2014, Rev. Dr. David Somers, Missionary-at-Large for French Outreach in the East District, reported that many French-speaking Malagasy (Madagascar) Lutherans, and people from Cameroon now attend Église Luthérienne de l'Ascension in Montreal. There are also Malagasy people who are part of LCC congregations in Quebec City and Sherbrooke.
And these are just a few examples—not a complete listing—of confessional Lutherans reaching out with the good news of Christ to their immigrant neighbours.
Rev. Dr. Leonardo Neitzel, LCC's Executive for Missions and Social Ministry, oversees the Pastors with Alternate Training program at the synod level in conjunction with CLTS and Concordia Lutheran Seminary (CLS) in Edmonton. He explains that, in the past, the pattern of missions for North American churches was always to send missionaries to other countries. Now, as people from various ethnic communities prepare for ministry in Canada, we are seeing the positive result of the Gospel being proclaimed in other parts of the world decades ago. Dr. Neitzel adds that although the style of worship may be modified to adapt to cultural differences, it is still rooted in the Bible and doctrines of confessional Lutheranism. He also notes that people from some ethnic groups want to be part of the conventional English-speaking congregations while others are more comfortable worshiping in their own language and culture.
The PAT educational regimen is what Dr. Neitzel calls "on the job training." The process is designed to take four to six years, but extensions are permitted if required, especially since candidates usually have other jobs and families to attend to. Once approved for the program, PAT participants are able to select which of the two seminaries they wish to be affiliated with for four levels of instruction. The first level focuses on catechetical studies. The second level allows participants to become a lector. At the third level, they become deacons and are able to obtain a preaching licence. Similar to regular seminary students, fourth level PAT participants are Vicars.
Before graduation and receiving a call, participants are interviewed by seminary faculty and then a recommendation is made to the PAT committee, a group made up of program mentors, the Executive for Missions and Social Ministry, and the Chairman of the LCC Council of Presidents. Based on the committee recommendation, participants are then interviewed by the President of the District where they are serving. After that, a final recommendation is made for the Council of Presidents to act upon. The entire PAT program is funded by synod.
Welcoming believers from around the world into our congregations and sharing the Gospel with them is a biblical form of pluralism that is absolutely necessary.
Immigration has had a profound effect on Canadian society and in turn, the church.  While the roots of Lutheranism in Canada are firmly European, the contemporary wave of new Canadians from countries with very different languages, cultures, and religious heritage has caused an essential need for adaptation if Christ's kingdom is to remain strong and expand. Our European foundations will always be with us, and there are still congregations which strongly identify with German, Scandinavian, or Slavic heritage. Acceptance, tolerance, understanding, and adaptation are needed in order to fulfill Christ's message of salvation. Welcoming believers from around the world into our congregations and sharing the Gospel with them is a biblical form of pluralism that is absolutely necessary.
———————
James Morgan is a writer and former broadcaster living in Gatineau, Quebec where he is completing a Ph.D in History. His home congregation is Trinity Lutheran near Gowanstown, Ontario, and he worships at various LCC congregations in the National Capital Region.