The state of Quebec Lutheranism
October 19, 2012
3 Comments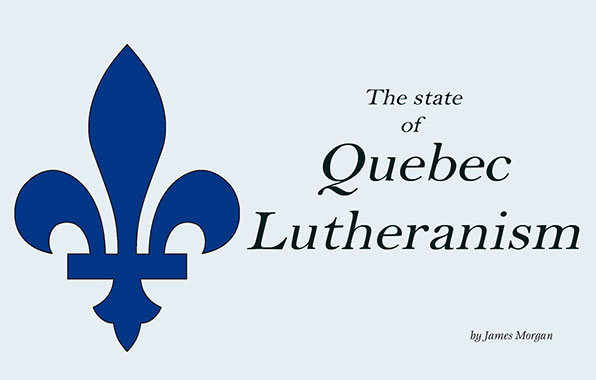 by James Morgan
The political relationship between Quebec and the rest of Canada has often been a difficult one, with nationalist groups at various times asserting the province's linguistic and cultural distinctiveness. The recent victory of the Parti Quebecois in the September provincial election will no doubt add to this historical narrative. A religious distinctiveness within the Christian context is part of what makes Quebec culturally unique in Canada, and it is something closely woven into the province's political heritage.  So what has and does this mean for confessional Lutheranism in Quebec? Various mission efforts have taken place and continue to take place, most of which are in some way influenced by the provinces linguistic, cultural, and political heritage.
The secularization of Quebec
The influence of the Roman Catholic Church, with which most French-speaking Quebecers can be identified, has declined considerably since the early 1960s. Before 1962, the province did not even have a Department of Education; schools and most social services were the responsibility of the Church. Even labour unions were largely under the umbrella of Roman Catholicism. Conservative Quebecers believed the church's influence upon state functions was a key way of preserving francophone identity.
This changed dramatically with a series of events known as the "Quiet Revolution"—a time when Quebec began to become a secularized civil state. Liberal nationalists and federalists believed more opportunity would be available to Quebecers if the education system and social services were delivered by the provincial government through taxpayer funding. At this time, there was also growing opposition to the Union Nationale party which had governed the province for all but four years between 1936 and 1960, mostly under the leadership of Premier Maurice Duplessis. The government had close ties to the Roman Catholic Church; priests often endorsed the Union Nationale in their homilies.
As the province became more secular in its approach to education and social services, church attendance was also greatly affected. Add in the general decline of church attendance in North America since World War II, and you get the liberal, secularized Quebec you see today.
As the province became more secular in its approach to education and social services, church attendance was also greatly affected.
The Lutheran element
Although the overall influence of Christianity in Quebec has weakened in recent decades, the Lutheran presence in the province dates to 1629 when the Kirke brothers travelled with a mercenary army to what was then New France in a failed effort to recapture the colony for England. According to the Inventaire du patrimoine religieux immatériel du Québec, two Lutheran chaplains were among the soldiers. The daughter of notable early colonist Louis Hebert was baptized by a Lutheran pastor. After the British defeat of the French in the 1769 conquest, many confessional Lutherans were among the ranks of the British Army in Quebec.
In the late 19th century, Norwegian Lutherans were among the immigrants who settled in the Gaspé and Eastern Townships regions. Four parishes, attached to either The Lutheran Church—Missouri Synod (LCMS) and what is now the Evangelical Lutheran Church in Canada (ELCIC), were founded in the Outaouais region. The first Lutheran church in Montreal, St. John's (ELCIC), was founded in 1853 by German immigrants. Slovakian immigrants followed, arriving in Montreal in the 1920 and founded Ascension Lutheran Church/L'Église de l'Ascension, as a member of the LCMS and eventually Lutheran Church–Canada (LCC). It is now the largest and, arguably, most diverse LCC congregation in Quebec.
LCC at work in Quebec
It is from Ascension in Montreal that most of LCC's Quebec mission efforts, in both French and other languages, take place. Rev. Dr. David Somers serves the congregation as its pastor and is also LCC's missionary for Quebec. Mission efforts to serve francophone Quebecers interested in Lutheranism began in the 1980s, and efforts to serve the French speaking Haitian immigrant community have since followed. A Chinese congregation was also established.
In 2010, mission work extended to St. Jean-sur-Richelieu to allow francophone Lutherans in that city to worship in the chapel located at the Canadian Army base there. A mission congregation began in Quebec City in 2008 with two LCC chaplains stationed at nearby CFB Valcartier leading Lutheran services there. The Quebec City mission is now officially recognized by LCC's East District, and is called Église Évangélique Luthérienne de la Sainte-Trinite. After meeting for several years in the reading room of a private library, services moved to the campus chapel at Université Laval, further increasing Lutheran visibility among French-speaking students.
Liturgies et cantiques luthériens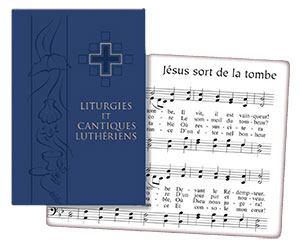 A major breakthrough that has allowed LCC to better reach French-speaking Quebecers and francophones throughout Canada was the publication in 2009 of a French counterpart to the Lutheran Service Book. Titled Liturgies et cantiques luthériens, it contains hymns, psalms, and Divine Service settings like its English counterpart, but features hymns unique to the French language. Workshops have been held to better familiarize pastors and parishioners with the French hymnal so it may be more easily used in their congregations. Dr. Somers, along with Rev. David Saar (St. John's, Mount Forest, Ontario), coordinated the creation of the French language hymnal as part of LCC's Francophone Liturgy Committee.
The late Rev. Dr. Wilbert Kreiss, who died in October 2011, was also a major influence in the development of LCC's mission activities in Quebec. Rev. Dr. Kreiss, who served as the President of the Evangelical Lutheran Church, Synod of France and Belgium from 1992 to 2000, had also been a guest professor for two Concordia Lutheran Theological Seminary (St. Catharines, Ontario) courses held in Montreal for francophone students. He contributed the text of several hymns for Liturgies et cantiques luthériens and was the chief translator of the Divine Service IV liturgy for the book. "His works still constitute the bulk of all confessional Lutheran works written in French," says Dr. Somers, calling Dr. Kreiss a "patriarch of francophone LCC."
LCC's recent work has succeeded in raising Lutheranism's profile in Quebec. L'Église évangéilque luthérienne de l'Ascension was recently selected to represent Lutheranism for a government cultural heritage project on religious diversity in Quebec. The result is a series of video interviews and texts explaining LCC and its beliefs which have now been posted on a government sponsored website. For more information on the project, see "Provincial project presents the face of Lutheranism in Quebec."
The challenge
Rev. Dr. Somers acknowledges that reaching Quebecers with the Gospel in a Lutheran context does have its challenges, but they are not entirely different from the challenges Lutheran missionaries, parish pastors, and laymen face elsewhere in Canada. In the past it was necessary to spend time highlighting the differences between Lutheranism and Roman Catholicism. This, Rev. Dr. Somers believes, is an increasingly minor factor.; Christianity is "so far off the radar" in contemporary Quebec, he says, that many aren't even familiar with the Roman Catholic Church let alone Lutheranism. "Religion is considered irrelevant and an attitude of indifference prevails," he adds—a challenge to the Church which he believes even more serious than persecution.
Religion is considered irrelevant and an attitude of indifference prevails.
Another obstacle is the unpopularity of the social and political legacy of the Church in Quebec from past decades, and biblical teachings regarding homosexuality and women's issues. The answer, Rev. Dr. Somers says, is this: "The challenge is to convey restoration, peace, reconciliation with God, self, and others through a culture of repentance, forgiveness as the Gospel's gift to the world in Jesus Christ."
——————–
James Morgan is a writer and former broadcaster living in Gatineau, Quebec where he is completing a PhD in History at the University of Ottawa. His home congregation is Trinity Lutheran near Gowanstown, Ontario, and he also worships at the Lutheran Tri-Parish of Western Quebec.