Third edition of French hymnal released
January 23, 2017
No Comment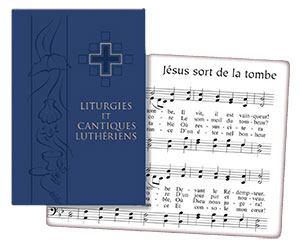 CANADA – Lutheran Church–Canada's French hymnal, Liturgies et cantiques luthériens (LCL), third edition was published in November 2016, with the hymnal now surpassing 10,000 copies printed. The third edition includes minor textual corrections and some updated hymn translations.
Thanks to a generous donor, 2,000 copies of the hymnal are on their way to several burgeoning francophone Lutheran church bodies in West Africa. Previously, 2,000 copies of the second edition had been sent to East Africa. Financing for production of the third edition was contributed in part by the East District, allowing a stock to be readily available for the coming years.
Since first being released in December, 2009, the hymnal has become the standard Lutheran service book and hymnal of many church bodies throughout the francophone world. When a graduate student from Haiti first visited Lutheran Church–Canada's Sainte-Trinité congregation in Quebec City, she exclaimed, "It is the same hymnal we use in Haiti!" not realizing it was an LCC publication. LCL is also used by two Anglican communities in Montreal.
———————