Video: President Bugbee preaches at LCMS President's Installation
September 20, 2013
One Comment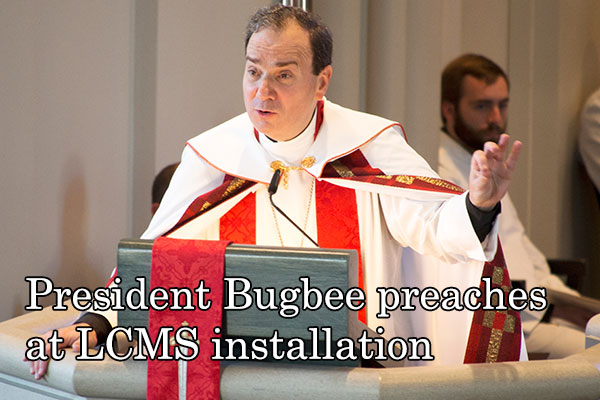 ST. LOUIS, Missouri – President Robert Bugbee of Lutheran Church–Canada preached the Service of Installation for President Matthew C. Harrison of The Lutheran Church–Missouri Synod (LCMS) September 14 in St. Louis.
"It's an unexpected honour to be asked to serve our Missouri Synod friends in this way," said President Bugbee in the days before the event, "and we deeply treasure the common confession and shared work that binds our hearts to theirs."
The service also saw the installation of other officers elected at the LCMS' 2014 convention.The installation fell on Holy Cross Day, a minor festival on the Church's calendar. President Bugbee preached on the theme "Christ Crucified, the Heart of our Life and Work," based on 1 Corinthians 1:22-25.
"Preaching that invites folks to run to Jesus wounded, bleeding, and dying on a cross rubs an awful lot of people the wrong way," President Bugbee lamented. "A quick look at the landscape in North America shows you that things many times haven't changed all that much. Sadder still is the tragedy that great segments of establishment Christianity in your country and mine don't seem to be talking very often or very clearly about Christ crucified as the only hope for sinners."
"But the apostle did not write this word ["We keep on preaching Christ having been crucified, a fatal stumbling-block to Jews and idiocy to Gentiles" (1 Corinthians 1:23)] only to give us reason to pick around at the shortcomings of others," President Bugbee continued. "The fact is that you here present, active brothers and sisters in the church and especially those of us called to be leaders in it, need this apostolic reminder desperately for your work and for your own personal lives."
The service was initially broadcast live online. Video of President Bugbee's sermon has now been made available online, and can be watched below:
———————
Photos courtesy of LCMS Communications.