What Child is this?
December 20, 2013
No Comment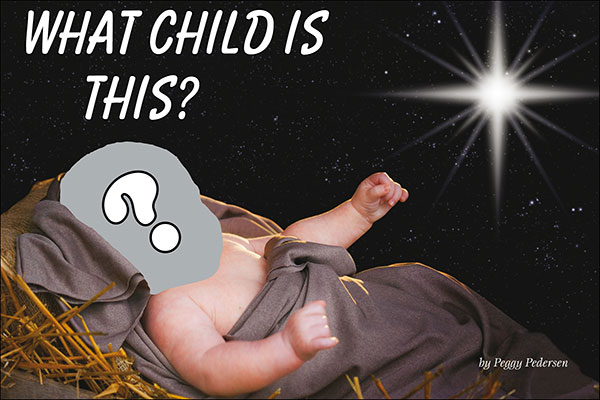 by Peggy Pedersen
At this time of year discussions arise concerning the logistics of the birth in Bethlehem. What was the actual date? Was it a stable or house? What was the nature of the heavenly sign the wise men followed? And there are many other questions we may ask.
While such questions help us to understand the scriptures more clearly, the most important question to be asked and answered, however, is: who was lying in a manger that night in Bethlehem? This is a question that has confronted the world for over 2,000 years. It may seem obvious to those of us in the Church, but this is the most important question ever asked.
Certainly, there was expectation. In the beginning God promised a Saviour (Genesis 3:15). The prophets predicted His coming for centuries. But the predictions had often been misunderstood: Eve seemed to think her firstborn might be the fulfillment of that promise (she named the boy "Cain," which Martin Luther and others have translated as "I have gotten a man, the Lord."). But Cain turned out to be a murderer.
Two prophetic strains of description developed concerning the coming Messiah. The suffering servant was one such strain, which we see written for us in the book of Isaiah:
"He was despised and rejected by men; a man of sorrows, and acquainted with grief…. Surely he has borne our griefs and carried our sorrows; yet we esteemed him stricken, smitten by God, and afflicted. But he was pierced for our transgressions; he was crushed for our iniquities; upon him was the chastisement that brought us peace, and with his wounds we are healed" (53:3-5).
In the same way, David wrote: "I am poured out like water, and all my bones are out of joint; my heart is like wax; it has melted within my breast… They pierced my hands and feet; I can count all my bones—they stare and gloat over me; they divide my garments among them, and for my clothing they cast lots" (Psalm 22:14-19).
But the pictures weren't all of suffering servant. At the same time, the prophets predicted a triumphant Messiah:
"And now, says the LORD that formed me from the womb to be His servant, to return Jacob to Him and that Israel be gathered to Him, I will be glorified in the eyes of the LORD, and my God shall be my strength. And He said, is it a light thing that you should be my servant to raise up the tribes of Jacob, and to restore the preserved of Israel: I will also give you for a light to the Gentiles, that you may be my salvation to the end of the earth" (Isaiah 49:5-6).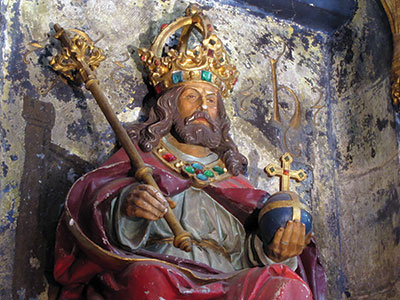 Indeed, the Messiah would not just be a Saviour, the prophets seemed to say, but also a great political military leader and judge who would bring restoration and peace: "He shall judge between many peoples," the prophet Micah writes, "and shall decide for strong nations far away; and they shall beat their swords into plowshares, and their spears into pruning hooks; nation shall not lift up sword against nation, neither shall they learn war anymore" (4:3). So too the Psalmist writes, "The Lord says to my lord: 'Sit at my right hand, until I make your enemies your footstool.' The Lord sends forth from Zion your mighty sceptre. Rule in the midst of your enemies!" (Psalm 110:1-2).
The prophets predicted an age ushered in by the Messiah that would not only restore Israel's fortunes, but bring about a time when all the world would worship the one, true God—a time when all suffering would cease. And this Messiah would come from David's lineage, they wrote; he would be born in David's city, in Bethlehem. Micah prophesied: "But you, O Bethlehem Ephrathah, who are too little to be among the clans of Judah, from you shall come forth for me one who is to be ruler in Israel, whose coming forth is from of old, from ancient days" (5:2).
The prophets predicted an age ushered in by the Messiah that would not only restore Israel's fortunes, but bring about a time when all the world would worship the one, true God—a time when all suffering would cease.
Hence, when the Wise Men approached Herod enquiring about the birth of the "King of the Jews"—a political title—Herod naturally saw a threat to his own power and lineage, and so sought to destroy Him.
Such political language appealed to the Jewish people, for they had long suffered under the rule of others. Some of these events—the Exile to Babylon, for example—are recorded in the Old Testament. But the time between the testaments is a long story of subjugation under this empire or that. The Jewish people longed for a Messiah to free them from such foreign oppression. Influencing them were apocryphal and pseudepigraphal apocalyptic literature, Aramaic paraphrases of the Bible (targums), and other spiritual writings like those of the Essene community.
One targum on Genesis, for example, puts the Jewish hope for a political Messiah in this way: "How beautiful is king Messiah who is to arise from among those of the house of Judah. He girds his loins and goes forth to battle against those that hate him; and he kills kings with rulers, and makes the mountains red from the blood of their slain…. His garments are rolled in blood; he is like a presser of grapes" (Targum Neofiti Genesis 49.10-12).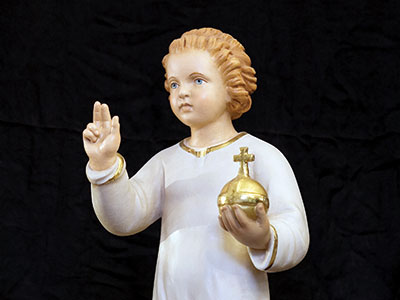 With such prophecies of the Messiah in mind, Israel was not looking for a child in a manger but instead a mighty warrior king to overthrow the Romans, someone with the might and power of King David. But when Jesus came, He proclaimed that His kingdom was not of this world. At His second coming in majesty He will certainly fulfill all messianic promises to reign in power and might. But now, at Christmas, we recall His first coming—His entrance into this world as a little child. He wasn't what people expected.
Who was this baby lying in a manger? We confess Him as:
The Son of God: The second person of the Triune Godhead. As the Angel proclaimed to Mary at the child's conception: "Behold, you will conceive in your womb and bear a son, and you shall call his name Jesus. He will be great and will be called the Son of the Most High. And the Lord God will give to him the throne of his father David, and he will reign over the house of Jacob forever, and of his kingdom there will be no end" (Luke 1:31-33).
The Son of Man: A synonym for human (ben adam)—found in Daniel 7:13-14—emphasizes that the one in the manger is a human being: bone of our bones and flesh of our flesh. These two terms—Son of God and Son of Man—convey the truth about Christ's nature. He is both fully God and fully human. "Although He is God and man, yet He is not two, but one Christ," as the Athanasian Creed puts it.
The King of the Jews: The original king of the Jews was God, but, when they demanded a human king, He lamented, "They have rejected Me, that I should not reign over them" (1 Samuel 8:7). Jesus, when questioned by Pilate, confirmed he was the true King of the Jews, but His kingdom was not of this world, for he is "King of kings and Lord of lords"—a title used in the Scriptures only for God (1 Timothy 6:15; Revelation 17:14).
The Good Shepherd: God told Ezekiel that He would care for His people as a shepherd cares for his sheep. "Look, I myself shall take care of my flock and look after it. As a shepherd looks after his flock when he is with his scattered sheep, so shall I look after my sheep…I shall raise up one shepherd, my servant David, and put him in charge of them to pasture them; he will pasture them and be their shepherd" (Ezekiel 34:1-12, 23).
Immanuel: The word means "God is with us." Isaiah prophesied: "Therefore the Lord himself shall give you a sign; Behold, a virgin shall conceive, and bear a son, and shall call his name Immanuel" (Isaiah 7:14). Just as God walked with Adam in the Garden and spoke with Moses face to face, just as He promised in Exodus 29:45 and 2 Corinthians 6:16 to live among His people and be their God, so God in Christ truly makes His eternal dwelling among men: "Look! God's dwelling place is now among the people, and he will dwell with them. They will be his people, and God himself will be with them and be their God" (Revelation 21:3). And again: "Behold, I am with you always, to the end of the age" (Matthew 28:20).
The Messiah: Messiah, or "anointed one," was a term used in reference to kings and priests appointed by God to carry out His will. Of Jesus it is written: "For it is witnessed of him, 'You are a priest forever, after the order of Melchizedek'" (Hebrews 7:17), a priest "who in every respect has been tempted as we are, yet without sin" (Hebrews 4:15). Therefore, this Priest "is able to save to the uttermost those who draw near to God through him, since he always lives to make intercession for them" (Hebrews 7:25).
The Redeemer and Saviour: This is truly the purpose of Christ's coming: "Christ has redeemed us from the curse of the law, having become a curse for us" (Galatians 3:13). And again: "For God so loved the world, that he gave his only Son, that whoever believes in him should not perish but have eternal life" (John 3:16).
This is truly the purpose of Christ's coming: "Christ has redeemed us from the curse of the law, having become a curse for us" (Galatians 3:13)
The Lamb of God, Our Atonement: Seeing Jesus approach, John the Baptist proclaimed: "Behold, the Lamb of God, who takes away the sin of the world!" (John 1:29). And the Apostle John would write, "He is the propitiation for our sins, and not for ours only but also for the sins of the whole world" (1 John 2:2).
Mary's child was the true child of promise. Yet to see his identity requires the eyes of faith.
"When Jesus came to the region of Caesarea Philippi, he asked his disciples," Who do people say the Son of Man is?" They replied, "Some say John the Baptist; others say Elijah; and still others, Jeremiah or one of the prophets." "But what about you?" he asked. "Who do you say I am?" Simon Peter answered, "You are the Messiah, the Son of the living God." And Jesus answered him, "Blessed are you, Simon Bar-Jonah! For flesh and blood has not revealed this to you, but my Father who is in heaven" (Matthew 16:13-17).
Jesus' birth at Bethlehem might seem inconspicuous at first glance, but it is a moment of great importance. For on that night, the Second Person of the eternal Trinity took on our humanity: "All things were made through him, and without him was not any thing made that was made. In him was life, and the life was the light of men" (John 1:3-4). A miracle: He who formed us became one of us!
As both God and human being, He alone could die for the sins of the entire world. He alone could set us free from condemnation and, by His resurrection, remove death's claim on us forever. For this reason He entered this world. "The Word became flesh and dwelt among us, and we saw its glory, a glory as that of the only begotten Son of the Father, full of grace and truth" (John 1:14).
Who was born in Bethlehem? The Christ. The Alpha and Omega. The image of the Father. The Eternal Word. The Truth. The only begotten Son of God. And yet He is not a God far off. He is your brother; your redeemer; your atonement; your Saviour from sin, death, and the devil; your peace and your eternal life.
Who was born in Bethlehem? The Christ. The Alpha and Omega. The image of the Father. The Eternal Word. The Truth. The only begotten Son of God.
God kept His promise in Christ's appearance. And He will fulfill all the promises of His second coming in majesty. Therefore, in confident hope we together say: Blessed is He who comes in the name of the Lord! Come Lord Jesus!
———————
Peggy Pedersen is a freelance writer in Victoria, B.C., where she is a member of Redeemer Lutheran Church.
Images: "Christ in Majesty" (from Saint-Pierre-le-jeune protestant de Strasbourg). Ralph Hammann. "Infant Jesus of Prague. Ⓒ Jorge Royan (http://www.royan.com.ar). CC-BY-SA-3.0.