What do people say about the Church?
September 28, 2011
One Comment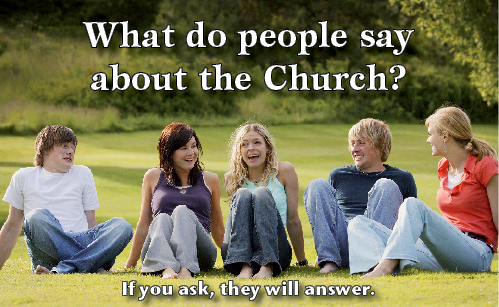 by Leonardo Neitzel
Since 2007 Lutheran Church–Canada has conducted an online survey which brings to light important findings for our congregations, members and church leaders. The survey link is on www.whatyoubelieve.ca and asks readers to "Take a survey about church." Almost 1600 people have taken the survey. As one would expect, about one-third of the responses came from Ontario where we see about the same percentage of Canada's population.
The information from the responses helps us evaluate our work together as we walk the shifting terrain of the Canadian mission field, facing daily obstacles, challenges and opportunities to proclaim the Gospel.
What we found most interesting were the responses from the 17 percent of people who said they do not attend church regularly.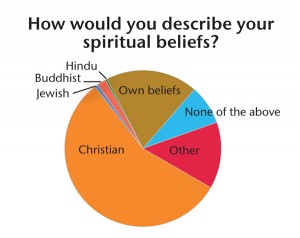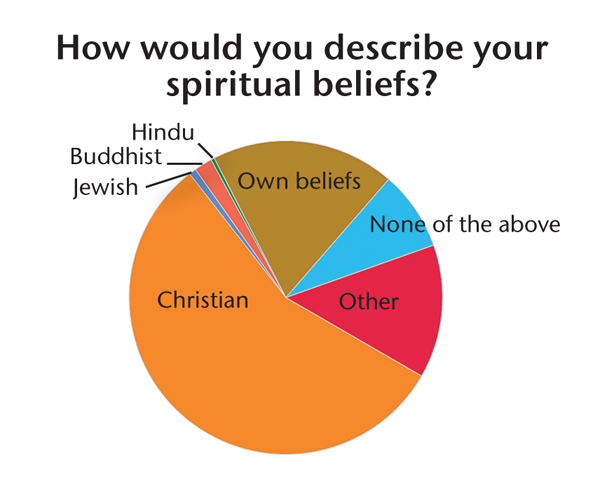 Of those who do not attend church regularly, more than 56 percent identified themselves as Christian. Close to 19 percent follow their "own set of beliefs, almost 14 percent didn't find an appropriate answer in the list of religions we supplied. Despite not attending a religious service regularly, more than 70 percent of respondents said their spiritual beliefs were important or very important to them.
The survey asks a number of questions related to church including how one would respond to an invitation to attend. Slightly more than half of those who do not attend church regularly said they would be likely or somewhat likely "to accept the invitation from a friend or neighbour to attend a Sunday church service." Exactly 70 percent said they would seriously consider an invitation to attend a special event hosted by a church.
Other responses indicate the prime factors for attending any particular church are 1) what the church believes and 2) the friendliness of the church members.
No survey is completely accurate, but answers serve as a research instrument to identify trends. It is a tool which helps us listen, read, and evaluate symptoms in society and the mission landscape. Findings may be helpful for our task in reaching out and applying the Word of God in specific situations.
Allowing for minor margins of error in a survey (e.g. some in the researched population may not have understood or responded to a question clearly or specifically; others may have expressed more anger or indifference than an objective answer; still other answers may have been vague, biased or incomplete, etc.), the responses we've received are valuable for gaining a better understanding of the context in which we live to carry on the message of Jesus Christ.
When asked if respondents attend church regularly and we received a "no," the survey then asked why the respondent does not attend church. Some of the answers are challenging and eye-opening for those of us who desire to or are involved in reaching out to others in Christ's name. (See responses here.)
Some survey findings may be seen as warning signs and provide helpful ways to assess and evaluate not only trends in our society, but also our approach in mission outreach.
The world's response or opinion neither affects the essential truth of God's Word nor changes our biblical, Christ-centred theology
As congregations plan and develop ministry and outreach strategies in their communities, the findings help us to see and evaluate the landscape in terms of peoples' perception of the Christian church, faith, confession and values. They also reveal people's personal challenges in life, contradictions, along with distorted and biased views as they grapple with questions related to Jesus Christ, faith, church, life here, life after death and related matters.
It is important to note that the world's response or opinion neither affects the essential truth of God's Word nor changes our biblical, Christ-centred theology. God's truth is what it is—even before the foundation of the world—and will remain non-variable and non-negotiable for us.
Through this same Word God gives us the Spirit-led understanding of situations around us and puts in our hearts and on our lips the proper words to speak in each circumstance. Neither do we shrink away from or shaken by the responses and reactions because the Lord Jesus Christ warned us about peoples' natural reaction to His message of salvation and to our witness. He says "Blessed are you when people insult you, persecute you and falsely say all kinds of evil against you because of me. Rejoice and be glad, because great is your reward in heaven, for in the same way they persecuted the prophets who were before you" (Matt 5:11-12). The Apostle Paul also tells us that "the message of the cross is foolishness to those who are perishing, but to us who are being saved it is the power of God" (1 Cor 1:18).
As predicted in the Old Testament and confirmed in the New Testament, people will always take offence at Jesus.  "As it is written:  See, I lay in Zion a stone that causes men to stumble and a rock that makes them fall, and the one who trusts in him will never be put to shame" (Romans 9:33). The Apostle Peter says, "Now to you who believe, this stone is precious. But to those who do not believe, "The stone the builders rejected has become the capstone," and, "A stone that causes men to stumble and a rock that makes them fall." They stumble because they disobey the message—which is also what they were destined for" (1 Peter 2:7-8). During His entire earthly ministry Jesus was rejected, opposed, contradicted and will continue to be a sign that will be spoken against (Luke 2:34). But He never stopped reaching out, loving and caring for people. He proclaimed His saving love, demonstrated and lived it until His death on the cross to save all people.
On a one occasion He asked His disciples "Who do people say the Son of man is?" After some responses, He addressed His own disciples personally about their perception. Moved by the Holy Spirit, Peter expressed the faith upon which the entire Christian church is built, "You are the Christ, the Son of the living God" (Matthew 16:16).
There is an old saying that to fight your opponent, know about his shrewdness and tactics first
Aspects in this dialogue between Jesus and His disciples serve as guidelines for understanding the survey responses and formulating our approach to mission.
Only by the power of the Holy Spirit could Peter make his confession. Jesus is pleased with this confession and by God's grace and the work of the same Spirit, we stand on this truth and confession. The Holy Spirit leads us to live in this truth and proclaim it to the world—even though it will cause both offence as well as salvation.
When Jesus asks "Who do people say the Son of man is?" the text implies the disciples' ability to "read" the context in which they worked and lived, how tuned-in and integrated they were with their society. They know what the world thinks, believes or does not believe, says or does not say about Jesus and His followers. This information must have helped them in their Gospel proclamation and dialogue with people. This 'worldview' did not shape their theology or teaching, but it would sharpen their skills for Gospel proclamation in the public square.
There is an old saying that to fight your opponent, know about his shrewdness and tactics first. Jesus was well aware of his opponents' tactics and addressed each situation specifically. The Apostle Paul surveyed the city of Athens which prepared him for his proclamation of the unknown God to the Greeks (Acts 17:23).
May the Lord prevent us from blindness toward the condition of our fallen world today and to opportunities for serving Him and His church for the sake of peoples' salvation through His name. May the Holy Spirit help us to abide in His Word as the only unchanging and everlasting truth that makes us wise for salvation through faith in Him. May the Holy Spirit help us to set apart Christ as Lord in our hearts as the Apostle Peter says, "Always be prepared to give an answer to everyone who asks you to give the reason for the hope that you have. But do this with gentleness and respect, keeping a clear conscience, so that those who speak maliciously against your good behaviour in Christ may be ashamed of their slander" (1 Peter 3:15-16).
May the Holy Spirit encourage, lead and help us to look and to act more outwardly into the mission fields which start at the doorsteps of our churches. May He bless and strengthen us in our Christian witness by word and deed, giving us the gracious reward—the overflowing joy of seeing many brought to faith in Jesus as Saviour and to the fellowship of His church through the Holy Spirit.
Rev. Dr. Leonardo Neitzel is the mission executive for Lutheran Church–Canada