What makes Canadians happy?
September 21, 2011
2 Comments
by Ken Maher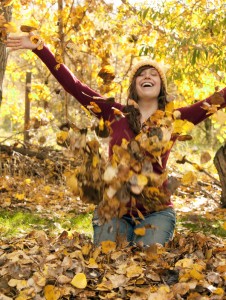 What would make you happy? A little more money? That shiny new gadget you've been wanting? More time away? Better health? There's no end to the number of things promising a happier life, but none of them ever seems to live up to that promise…at least for long. Pursuing happiness in any of these things is a never-ending race that becomes harder to run every day.
In his recent book The Happiness Equation: The Human Nature of Happy People author John Hallward finds some very interesting, if not predictable correlations. He found, for instance that despite Canada being one of the "freest, wealthiest democracies in the world [we] do not even rank in the top tier of happiest nations." He further claims there is "little correlation for happiness with work-time, commuting, or sleeping." "We cannot sleep or drink ourselves to happiness." he says. The answer is not more money (or stuff) either.
So what makes Canadians happy? According to Hallward there is an undeniable correlation between happiness and what he calls "religiosity." "But not for the reasons people might think," he is quick to add. "It is less about the belief in a god, but more about the human and social interactions of practising religion that count." Consuming less, giving more and engaging in community are the answer to happiness in the author's eyes.
And I couldn't agree more. Most Christians know the happiness coming from serving others and involving ourselves in our congregations and communities. But we also know even this happiness is fleeting. That same group of saints which makes you happy today can frustrate you something fierce tomorrow. The happiness of serving today can quickly turn into regret or feelings of being overwhelmed if you are called upon to do it too soon again, or too often, or to the exclusion of others. Sometimes even our happiest gathering, the Sunday Divine Service, can become more of a chore or a source of unease than it is for any real happiness.
The truth is, seeking happiness, even in religious things, simply isn't enough, because being happy simply isn't enough. Mr. Hallward is right. Believing in God doesn't automatically make you happy. In fact, believing in a just and righteous God can make one truly unhappy (read the Catechism's treatment of the Ten Commandments again!)
But believing in that same God—the Father who loved us enough to send His only Son to die and rise for us—brings us joy. It is a correlation that sadly Mr. Hallward doesn't recognize. Believing in God gives us something so much deeper than mere happiness. It gives us that one thing which sustains our moments of happiness, but is neither fleeting like happiness, nor based upon our external circumstances. It is based instead upon the promises of God already fulfilled for us in Christ! A race already run and won upon the cross. In the end, Christians are happy not because we pursue the right kinds of things, but because we know God made things right by pursuing us! And that kind of joy will sustain us long after we learn to give up pursuing happiness.
"May you be strengthened with all power, according to his glorious might, for all endurance and patience with joy, giving thanks to the Father, who has qualified you to share in the inheritance of the saints in light. He has delivered us from the domain of darkness and transferred us to the kingdom of His beloved Son, in whom we have redemption, the forgiveness of sins" (Colossians 1:11-14).
Rev. Ken Maher is pastor of Christ Our Hope Lutheran Church in Collingwood, Ontario. He blogs at http://hope4thehapless.wordpress.com