When you have that sinking feeling
June 18, 2011
One Comment
by Peggy Pedersen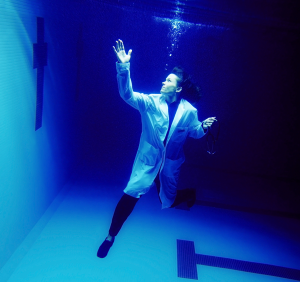 When I was a child taking swimming lessons, we had to pass a test at the end of the summer. We took all our lessons in the shallow end of the pool where you could stand with your head above water. The swimming test was scheduled for the deep end. As we waited for my class's turn, we watched as instructors tested other swimmers. I was anxious about the test and the deep water. My mother reassured me that it really wasn't all that deep, but another mother, standing with her daughter nearby, overheard us and spoke up: "Oh it's definitely eight feet deep." That was way over my head and filled me with terror. 
When it was my turn, I had to step off the diving board (we had not done any diving). As I entered the water I tried to swim but the thought of the depth panicked me. I began thrashing around and had to be pulled out. It took until the next summer for me to regain my confidence and pass the test.
This incident reminds me of Peter as he saw Christ walking on the water. Peter said, "Lord, if it is you, command me to come to you on the water." Jesus said: "Come." (Matt. 14:28, 29) Peter, with his eyes on Jesus stepped out of the boat and onto the surface of the water and took a few steps, but then he made a serious mistake. He took his eyes off Jesus and looked down. The wind blew strongly all around him. Beneath were the deep waters of the lake. He knew no man could walk on water. He became afraid and began sinking. At that point, he made the right decision; he called out: "Lord, save me!" (Matt. 14:30). Immediately, Jesus reached out, grasped Peter's hand, lifted him and led him to the boat, saying "O you of little faith, why did you doubt?" (Matt 14:31).
Our lives are filled with deep waters. We often find ourselves in situations where we are filled with apprehension, feeling overwhelmed by financial difficulties, physical or mental pain, family troubles, work difficulties, etc. Or things may be going along pretty well, and we feel we are "getting the hang of" Christian life, resisting temptation, overcoming, but we have just been "playing in the waves." Then something like a tsunami occurs in our life, whether an act of nature like an earthquake, fire or flood; a sudden illness or death, a deserting spouse or a lost job; and we feel overwhelmed as though we will drown. And this is what the enemy tries to do to us—take our eyes off Christ and fix them on our circumstances thus instilling fear and anxiety. But God wants us to hear His Word: "Fear not, for I have redeemed you. I have called you by your name. You are mine" (Isaiah 43:1).
We need to do as Peter did: call out "Lord, save me," reach out, and grasp His outstretched hand. Look only at Him, not at our circumstances and fall into His arms. For His strength is there for us in our weakness. He has promised us: "When you pass through the waters, I will be with you" (Isaiah 43:2). That strength is given to us on an "as-needed" basis, day-by-day. Just like the manna that fed the children of Israel in the desert, God sustains us by giving us the grace needed for each day. He cautions us against worrying about tomorrow, for "Each day has enough trouble of its own" (Matt: 6:34).
By trusting Him and leaning on Him, we are led step-by-step through the flood. For our feet are not on shifting sand which the high tides of life can wash away, but on the rock—Jesus Christ. By remembering we are children of His kingdom, belonging to Him, we can have confidence as He says: "All authority in heaven and on earth has been given to Me." He is in control of everything concerning us. By prayer and Word, we can take shelter in Him and know He will not fail or abandon us. 
"When you pass through the waters, I will be with you;
and through the rivers, they shall not overwhelm you;
when you walk through fire you shall not be burned,
and the flame shall not consume you." Isaiah 43:2
Peggy Pedersen lives in Victoria, B.C and is a member of Redeemer Lutheran Church.