Worry is like a rocking chair
September 21, 2010
No Comment
"Cast all your anxiety on Him because He cares for you" (1 Peter 5:7).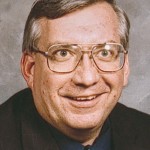 Periodically the accumulation of trash and unused items in our basement must be cleared away. Boxes that might be useful, scraps of lumber from handyman projects, and bags of outgrown clothing pile up in the corners. Finally the day comes when everything has to be sorted and discarded and cleaned.
Our lives get filled with an accumulation too. And the biggest time-wasting, strength-sapping item is worry—worries about health, worries about money, worries about finishing the many tasks we have. And over in a dark corner is the worry about what people think of us, or any number of other private worries. On top of the whole pile is the worry about "what will happen next."
The philosopher Plato wrote centuries ago: "Nothing in the affairs of men is worthy of great anxiety." Another pundit updated it this way: "Worry is like a rocking chair; it gives you something to do, but it gets you nowhere."
Thomas Carlyle built a soundproof room in his home in London so he could do his work without interference from outside noise. His neighbour had a rooster that crowed several times every day and night. Carlyle protest­ed to the neighbour, and the man said his rooster crowed only three times daily—and surely that was not a great annoyance. "But," Carlyle answered, "if you only knew what I suffer waiting for that rooster to crow!" So it is with us. We wait anxiously for something to happen—sure that it will any minute—and so deplete our energies and dissipate our strength.
Isn't it true that most of our worries are borrowed from some other day? We worry about mountains we will never have to climb, about streams we will never have to cross, about situations we will never have to meet.
I think often of the women who went to the tomb of Jesus that first Easter morning. It must have been a glorious time, with the sun just rising in majestic splendour, the crisp, cool early spring air, and the lovely wild flowers growing along the way. But they missed all that. Instead they were worrying about who would roll the stone away. Yet when they got there they found the stone had already been rolled away. All their worry was about a situation that had been taken care of before they reached it!
We must remember also that living a day at a time refers just as much to yesterday as it does to tomorrow. God is far more ready to forgive us than we are to forgive ourselves. Suppose you did make a mistake yesterday — do you expect to keep the shadow hanging over you for the rest of your life? If you can correct the wrong, then do so, and go ahead about the busi­ness of living today.
Have you heard the story of Willis H. Carrier, a leader of the air-conditioning industry? Years ago, as a young man, he worked for the Buffalo Forge Company in Buffalo, New York. They sent him to install a gas-cleaning device in a plate-glass factory in Missouri. The device, which cost $20,000, was still in the experimental stage and young Carrier met with many unex­pected difficulties. If he had succeeded he would have been set for life. But instead he faced utter and dreadful failure. The machine worked after a fashion, but not well enough to meet the guarantee. He wrote: "I was stunned by my failure. My stomach, my insides, began to twist and turn. For awhile I was so worried I couldn't sleep."
In time his common sense told him worry wasn't getting him anywhere. He took three steps that saved the day. First, he analyzed the situation fearlessly and honestly, figuring what was the worst that could possibly happen because of this failure. He realized he would not be jailed or shot. He might be dis­missed, but other jobs would come along. Second, having faced the worst possibility, he reconciled himself to accept it if it came. His employers might lose $20,000, but the machine was experimental anyway and they could afford to write it off to research. Then he found his mind was no longer clouded with worry. No longer was it paralyzed with fear. He could think. Finally, as he thought, he saw that by spending another $5000 he might make the machine work properly. He did so, saved his reputation and won his firm a handsome profit.
Analyze your worry calmly. You will find so much of it is refusal to accept something from the past that cannot be altered, something unpleasant in the pres­ent, or some calamity in the future. Accept facts.
Accept the forgiveness of God. This way you can break free from the burden of the past and the bur­den of the future. And don't forget, most of all…"Cast all your cares upon Him, for He cares for you!"
Rev. Paul Zabel