God's (young) people gather

With a registration of more than 500 youth, leaders and speakers, Lutheran Church–Canada's 2010 National Youth Gathering kicked off Friday evening, July 2 at Edmonton's University of Alberta. For five days, youth from across Canada heard from guest speakers, including LCC's president, Rev. Dr. Robert Bugbee, with the goal of affirming they are an important part of God's family.
The gathering's theme was belong&believe>>>believe&belong based on 1 Peter 2:9-10 "But you are a chosen people, a royal priesthood, a holy nation, a people belonging to God, that you may declare the praises of him who called you out of darkness into his wonderful light. Once you were not a people, but now you are the people of God; once you had not received mercy, but now you have received mercy."
As with every gathering of youth there was a lot of fun, games and singing—and opening night was no exception. Emcee qSarah Wemyss led the warm-up which included activities that had the entire group moving, singing and laughing. Speaker Rev. Sye VanMaanen (Riverbend Lutheran, Edmonton) set out the evening's theme in his presentation. He affirmed that the youth "belong to Christ. He has called you to be His own in the water's of baptism." Pastor VanMaanen recalled the story of Zacchaeus, a short, hated Jewish tax collector whom Jesus called to be His follower.
Later in the evening, Lynn Gergens (Walnut Grove Lutheran, Walnut Grove, B.C.) read the story of Zacchaeus as a group of volunteers acted it on stage. Her message, based on the story, was that Jesus meets you where you are. She said that basically Jesus told Zacchaeus, "You don't belong in the tree; you belong to Me." The final presenter, Joel Haberstock (St. John's Lutheran, Vernon, B.C.) reiterated the fact that as believers in Christ, we belong to Jesus and will spend eternity with Him.
Between speakers, the audience was treated to music by perennial gathering favourites Lost and Found; comedy by These Guys; and worship music led by song leader Jennifer Jade Kerr (First Lutheran, Kelowna, B.C.) and the "house band." Each of the groups and others performed in various venues later in the evening as part of a variety of breakout events including drama, sports, and a musical jam session.
The organizing committee kept in mind the long-term impact the gathering would have on the church-at-large.
Throughout Saturday afternoon, eight workshops provided hands-on experience aimed at developing God-given skills, talents and gifts. For musicians, it was an opportunity to hone vocal skills under the direction of Professor Joy Berg, from Concordia University College of Alberta. The choir workshop also sang during the gathering. Budding instrumentalists, many bringing their own instruments learned about accompanying congregational song.
At one point, youth armed with their digital cameras roamed the campus practicing the pointers provided by professional photographer Chris Bruer. When they gathered again in the breakout room, they shared their images on a large screen.
Meanwhile, youth leaders spent time with Rick Lawrence, one of North America's leading authors and presenters on youth ministry. He shared basic principles of working with youth which the leaders can adapt for use in their congregations. Mr. Lawrence noted that any ministry with youth must be "centred on Jesus."
One of the most popular workshops, led by LCC's youth specialist Lynn Gergens, focused on dating and relationships. Scripturally-based responses and sensitive discussion included topics ranging from boyfriends and girlfriends getting along to setting limits and abortion. "I was amazed at how open they were," admitted Ms. Gergens, "And I was thankful for the answers God's Word provides to these issues."
In Saturday's plenary sessions the "belonging" themes continued. In the morning speaker Joel Haberstock and Bible study leader Lynn Gergens explored the story of Jonah. They noted that Jonah was reluctant to deliver a message to Ninevah that would bring the people in the city into God's family. Knowing Ninevah's violent reputation, Jonah ran the other way. Mr. Haberstock noted that we shouldn't "exclude people before God does," explaining that God wants everyone to be part of His family through Jesus Christ. "God has compassion on all people, not just the people we like," added Ms. Gergens.
Saturday evening's plenary session drew lessons from the story of Jesus meeting the Samaritan woman at the well. The message to the youth was that sometimes we believe we don't belong because of our sin, yet Jesus deliberately sought a conversation with a known sinner and died for us while we were still sinners.
Sunday's activities began late, allowing the youth to sleep in a bit while their leaders gathered for more training. Once brunch was done, everyone loaded up school busses and headed to Concordia University College of Alberta for the rest of the day. Unfortunately, the weather was cool and drizzly, but it didn't stop people from playing games outside—both organized and spontaneous. For those not outside (the majority) the schedule offered a number of interest sessions including such things as biology experiments, discussion with the President of Synod and district presidents, and learning about Concordia University College. Rev. Dr. Michael Semmler, president of Lutheran Church of Australia dropped into the president's breakout and spent a few minutes talking about his church and answering questions.
By dinner the rain was steady, not quite the perfect weather for an outdoor barbecue. Undaunted, but greatly dampened, everyone lined up for their food but quickly found somewhere dry to eat it.
The schedule called for the evening sessions to take place outdoors. However, organizers decided mid-afternoon to relocate inside Concordia's ample gymnasium.
The session featured each of the speakers who spoke about questioning God and dealing with doubt. Joel Haberstock told the youth that the Bible is full of people questioning God. "God understands," he said, "and tells us we can approach Him with confidence. He doesn't toss your faith out because of doubts!"
All plenary sessions featured a young person speaking about their own walk of faith. On Sunday, Jonathan Chambers (Bethel, Sherwood Park, Alta.) spoke about drifting away from the church and God, yet trying to "force myself to be more Christian." He told his peers about how he finally "had it out with God" and turned control over to Him and "let God do the work."
Speakers included Rev. Dr. Gerald Krispin, president of Concordia Univeristy College who welcomed the gathering to the campus and guest Rev. Dr. Michael Semmler, president of Lutheran Church of Australia. He proposed some kind of youth exchange between LCA and LCC, perhaps at the next gathering.
Following the session, a Service of Prayer and Preaching closed the day. Those who had participated in the "choir" elective sang during the service. Preacher, Rev. Dr. Robert Bugbee, president of Lutheran Church–Canada focused attention on the theme verse from 1 Peter 2:9-10. He noted that verse 9 talks about Christ's followers as "a chosen people, a royal priesthood, a holy nation, a people belonging to God…" and that priests serve as someone between God and people—the person in the middle. With that in mind he encouraged the young people to "represent those in need before God" by praying for them. In representing God to people he suggested that "every time the Lord opens the door, you can tell a little bit [about His love]." He concluded by saying that as members of the royal priesthood "you are caught in the middle…and you belong there, because you believe."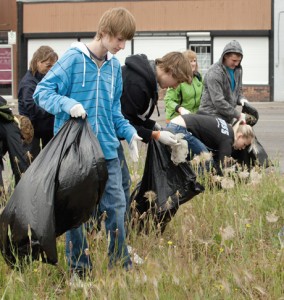 The youth spent the afternoon of Monday, July 5 serving. "These are not glamorous jobs at all," explained Tara Barnes who organized the servant events. Young people and their leaders fanned out across Edmonton to serve various communities and organizations by cleaning, painting and working with children.
More than 150 went to Edmonton's inner city McCauley neighbourhood to clean up ten different sites. "The McCauley area is one of the poorest areas in the city," reported Ms. Barnes, director of Parish Services at Grace Lutheran Church in Edmonton. "We worked with the City of Edmonton to help clean up some of the more unsightly areas and to help the area residents see what can be done by just a few people working together."
Other teams worked with organizations like the Canadian Cancer Society, Mustard Seed Church, and Edmonton Women's Shelter where they helped with some painting. Still others conducted children's VBS-type programs.
When asked about the reason for these kinds of service projects, Ms. Barnes explained that these acts of love are a response to the love God shows us by sending His Son, Jesus Christ, to die for our sins. "This is the foundation of our faith," she said. "God's forgiveness transforms lives so we want to serve our communities as much as we can."
The servant events and an evening spent enjoying the water and rides at West Edmonton Mall, left the youth and leaders attending Tuesday's the final session weary and not looking forward to the end of the experience.
The gathering received final words of encouragement from speakers Lynn Gergens, Rev. Sye VanMaanen, Joel Haberstock, drama team These Guys and Lost and Found.Pastor Sye reminded them they don't belong to the world, they belong to Jesus and therefore belong to each other as members of the body of Christ. Using the Bible story of the man born blind whom Jesus healed, Ms. Gergens encouraged everyone to "see people the way Jesus sees them" as those in need of His love and forgiveness. Finally, Joel Haberstock told how important it is to keep connected to the church. Following the presentations, the speakers received a standing ovation.
The gathering closed with a worship service led by Pastors Jan Pastucha, Richard Juritsch and Brian Faulkenholt. "Don't be a camouflaged Christian," Pastor Mark Danielson (Trinity, Fisherville, Ont.) the gathering's chaplain said in his sermon. He told the youth that his prayer was for them to be "Christians who make a difference in the world."
To help remind everyone at the gathering they are the light of the world, everyone received a battery-operated tea candle and a blessing from one of the pastors. As the candles were turned on, the overhead lights slowly dimmed. Eventually the auditorium glowed with the warm light of the candles as everyone sang Forth in the Name of Jesus.Tears and hugs marked many departures as new friends pledged to keep in touch. The next gathering is currently scheduled for LCC's Central District in 2013.