A musical gift for this Christmas and many more!
by Dave Lieffertz and Gary Brucker
The year was 1992 when the guys in The CREW were introduced to a 14-year-old singer from Roblin, Manitoba named Tara Lyn Mohr. Tara was already writing, recording and performing her own material as well as winning talent contests for covering popular country tunes of the day.
The young gifted singer/song-writer joined The CREW for a few concerts that year and made a guest appearance on The CREW's Just As We Are CD. One thing was clear to the everyone who heard her—she had a great voice and a confident stage presence of someone well beyond her years.
Fast forward 18 years. Tara Lyn Hart has experienced a lot in the past two decades including marriage (to radio executive Perry Hart), motherhood (three children), and a recording project with Sony Music which yielded the Top 10 hit Stuff that Matters.
In 2008, Tara's husband, Perry, entered studies in St. Catharines at Concordia Lutheran Theological Seminary. In the summer of 2010, Tara was asked if she would consider going back into the studio and recording a Christmas album as a seminary fund raising activity. Since she has always wanted to do a Christmas album, she was very excited to work with producer, Pete Lesperance and fellow collaborator David Quilico on the six-song EP scheduled for release November 30, 2010. You can preview the tracks at www.taralynhart.com
We listened to a few tracks from the new CD and quite simply, we were impressed, but not surprised. From the first listen of the single, Perfect Holiday, the listener will know what he or she is in for—fresh, clean vocals highlighting the joy that comes with the message of Christmas, blended perfectly with simple yet competent instrumentation, all wrapped up with excellent production. Perfect Holiday is a bouncy, feel-good song about a couple who don't have much, materially speaking, yet will "have a Merry Christmas anyway." The message is simple; the lyrics tell a story. The melody attaches itself to you. This is one of those songs that gets in your head and stays there. And you will be ok with it being there!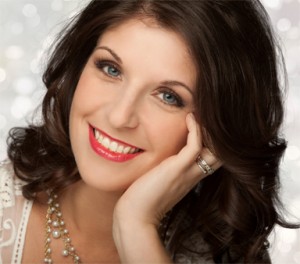 We were equally impressed with Tara's own Very First Christmas (her 8-year-old son is a featured vocalist on the track) and her version of What Child is This? — both pointing to the heart of Christmas—the birth of the Saviour!
Tara was recently asked about the CD: "Christmas is my favourite time of year, and I was so inspired to write music for this project that I started in July! Just when I thought there couldn't possibly be anything else to say about Christmas, I was blessed with ideas that were fresh and familiar all at the same time. I am excited to share my music, and I hope these songs will be playing in the background during people's most wonderful holiday experiences this year!"
We are convinced Tara's hopes will come true—her Christmas songs will be playing and bringing people joy this Christmas and for many to come.
Buy a copy online at www.taralynhart.com using PayPal; order from Concordia Lutheran Theological Seminary (905-688-2362 or e-mail concordia@brocku.ca Visa and MasterCard accepted) or download single tracks or the whole CD from iTunes.
Dave Lieffertz is a piano teacher and free-lance musician living in Chemainus, B.C. Gary Brucker is the director of Family Life at First Lutheran Church in Kelowna, B.C. Dave and Gary are members of The CREW.