A long-distance relationship: Technology and far-flung parishes
by James Morgan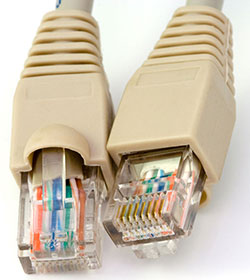 To call the East District's Ottawa Circuit big is an understatement. It includes not only every Lutheran Church–Canada (LCC) parish in Ottawa, but also Timmins (Ontario) and all of Quebec, New Brunswick, Nova Scotia, and Prince Edward Island. Previously, pastors in LCC's biggest circuit only gathered occasionally in person for winkels or other discussions, but within the past year, technology has helped overcome the natural barriers of distance. Since 2011, Ottawa Circuit pastors have been using internet-based technology such as GotoMeeting in order to communicate more often. "We meet once per week, whereas before we were lucky to meet five times a year," says Rev. Richard Lockstadt of the Lutheran Tri-Parish of Western Quebec, which includes three congregations in the Outaouais region near Gatineau. Every Tuesday, each pastor sits in front of his computer or smart phone. The first Tuesday of the month is a winkel, and other Tuesdays are reserved for discussion about the readings for the coming Sunday.
Rev. David Milette of Good Shepherd Lutheran Church (Moncton, New Brunswick) appreciates how technology has brought the clergy of the Ottawa Circuit closer together, noting his parish is 1,200 kilometres from the nearest chartered LCC congregation. He says the use of technology has also made it possible for a guest speaker, Rev. Dr. Steven Hein of Colorado, to be part of an Ottawa Circuit winkel for a presentation on apologetics and postmodernity.
Rev. Joel Kuhl of Christ Lutheran Church (Timmins, Ontario) shares the enthusiasm over being able to have guest speakers take part in the online meetings, and appreciates the personal connections more frequent meetings bring. "It's not face to face," he says, "but you can see facial expressions" when discussions are taking place.
"Having as much contact as you can to the wider church is a good thing," says Rev. David Smilek of Redeemer Lutheran Church (Sudbury, Ontario) about the ability for pastors to bridge the distance through electronic meetings. As the new Circuit Counsellor for the Ottawa Circuit, Rev. Smilek appreciates how communicating electronically will make it easier for him to keep in contact with pastors and parishes. Rev. Kuhl, the previous Circuit Counsellor attests to this, noting that, before, a considerable amount of time and money was spent on car trips and flights in order to achieve the near impossible responsibility of visiting every parish in the circuit. All of the pastors hope efforts continue within LCC at all levels to continue to facilitate the use of technology for meeting purposes. Overtures and resolutions regarding this were discussed at the LCC convention in 2011 and the East District convention in 2012.
In addition to the Ottawa Circuit pastors taking part in weekly discussions, a pastor from even further away also participates in some of them. Rev. Darian Hybl serves Emmanuel Lutheran Church, a congregation affiliated with both the North American Lutheran Church (NALC) and Lutheran Congregations in Mission for Christ (LCMC) in Goodland, Kansas. Rev. Hybl says he was seeking more communication with other confessional Lutheran pastors so Rev. Milette, with whom he attended seminary, recommended that Rev. Hybl be allowed to take part in some of the meetings with the Ottawa Circuit pastors. The Kansas pastor is grateful for the contact, saying it allows pastors to discuss things affecting the church. "Technology is absolutely fabulous," he notes, adding that even though there are differences between synods, circuits, and countries, there is one constant: "The Gospel is the same in all of these places."
The Ottawa Circuit pastors had little negative to say about the use of technology in order to make it easier for them to communicate with each other. The only common observation was that some participants have varying levels of comfort with using computers and similar devices for communication. There is also strong encouragement for circuits, districts, and synod to continue to support and improve the ability for not only pastors, but other individuals and organizations within LCC to communicate effectively and economically, electronically.