LCC launches 2012 missions newsletter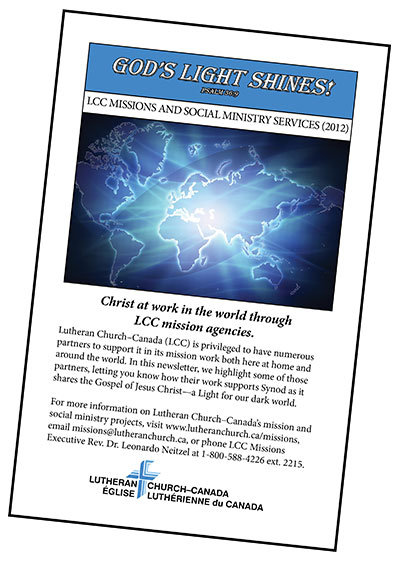 WINNIPEG – Lutheran Church–Canada (LCC) has released a newsletter highlighting the mission activity of some of its Auxiliaries and Listed Service Organizations.
"LCC is privileged to have numerous partners to support it in its mission work both here at home and around the world," the booklet begins. "In this newsletter, we highlight some of those partners, letting you know how their work supports Synod as it shares the Gospel of Jesus Christ–a Light for our dark world."
This year's issue features ten LCC-associated agencies, highlighting how their work supports Gospel proclamation and social ministry service not only in Canada but around the world in places like Thailand, Cambodia, Costa Rica, Nicaragua, Honduras, Ukraine, Haiti, Mozambique, Cameroon, Botswana, and India.
"LCC's Missions and Social Ministry Services is grateful to Jesus Christ, the Lord of the Church, for providing human and financial resources for LCC's proclamation of the Good News of salvation," said Rev. Dr. Leonardo Neitzel, LCC's Executive for Missions and Social Outreach. "We request the continued prayers of all LCC pastors, congregations, and organizations on behalf of our Auxiliaries and LSOs—as well as LCC's Missions and Social Ministry Services—in their efforts to reach out with the Gospel of Jesus Christ to many."
Download a print-ready pdf of the newsletter here. Alternately, this version is more convenient if you intend to read it on your computer.
For more information on LCC's missions, visit LutheranChurch.ca. You can support LCC's Missions and Social Ministry Services through online giving, or by sending donations by mail to LCC's office in Winnipeg:
Lutheran Church–Canada
3074 Portage Avenue
Winnipeg, MB  R3K 0Y2
Canada
——————–