Concordia Lutheran Seminary offers $16,000 in entrance scholarships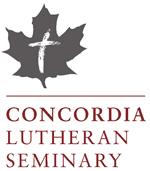 EDMONTON – Concordia Lutheran Seminary has announced the school will award four one-time entrance scholarships totaling $16,000 for first-year students beginning pastoral studies.
"Do you know of someone who is planning to study at Concordia Lutheran Seminary to prepare to become a pastor?" a release from the seminary asks. "Are they ready to start but just do not have the money?"
For the 2013-2014 academic year only, the seminary will award $4,000 each to the four top LCC students entering the Master of Divinity program. Applicants must have completed both the Greek and Hebrew language requirements and hold a minimum grade point average of 2.5. There is no special application form necessary; simply apply for the program.
"Every year we hear of potential students who have great academic qualifications, but who are planning to work a year or more because they just don't have the funds," said Professor Jonathan Kraemer, Director of Financial Aid. "We're hoping these entrance scholarships will make it possible for them to begin their studies sooner than they thought possible."
The application submission deadline to the Master of Divinity program for the 2013-2014 year is April 1, 2013. For more information, visit the seminary's website at www.concordiasem.ab.ca, or contact Professor Jonathan Kraemer at jkraemer@concordiasem.ab.ca.
——————–