Listen up!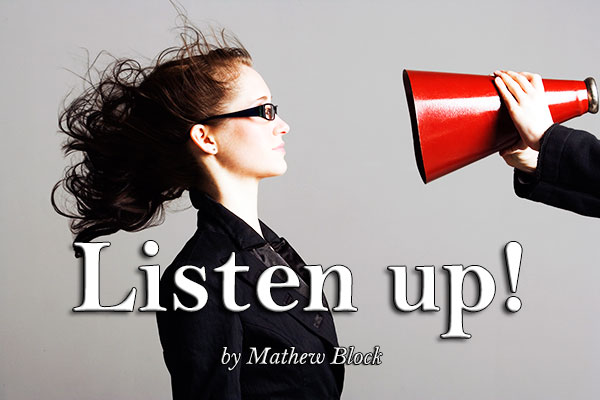 by Mathew Block
A boy is playing video games when his mother comes into the room. "Sean," she says, "can you take out the garbage?" "In a minute," he replies, eyes still on the screen. Ten minutes later his mother returns. Sean is still playing his game and the garbage has not been taken out. "Sean," she says, "it's time for a break. Go take out the trash." "I just want to finish this level," he replies." Ten minutes later she's back again. The garbage still hasn't been taken out. "Sean," she cries in exasperation, "are you even listening to me?"
Chances are you've been in that situation before: you're trying to tell someone something, but he's not paying attention. Sure, he hears you, but he's not really listening.
It's a problem we see God encounter time and again in the Old Testament. "Return to Him you have so greatly revolted against, O Israelites," cries Isaiah (31:6). It's a common enough theme in the Prophets. "Return, faithless Israel" (Jeremiah 3:12). "Return, O Israel, to the LORD your God" (Hosea 14:1). "Return to the LORD your God" (Joel 2:13). "You have not returned to me" (Amos 4:6). "Return to me" (Zechariah 1:3; Malachi 3:7). Return, return, return.
God is constantly calling the Israelites back to Him. And why do they need calling back? Because they have stopped listening to what He has to say. They have listened instead to their own chattering, to the myriad voices at work in the world. Eventually the noise completely blocks out God's Word. That's why He sent prophets—to try to get His people to hear Him once more.
If we're honest with ourselves, we know this isn't just a history lesson—the story of God and stiff-necked Israelites long ago. It's our story too. God is always speaking to us but we're seldom listening.
God is always speaking but we're seldom listening.
We can end up just going through the motions as a result. Yes, we might give God his obligatory hour Sunday morning, but then we completely ignore Him the rest of the week. It's so very easy to become "Sunday Christians"—people who keep faith restricted to (at best) one day a week. We'll listen to God alright—but on our terms, when it's convenient for us.
But don't be fooled: listening to God part-way isn't really listening at all. There's an old saying which goes: "Going into a church doesn't make you a Christian any more than going into a garage makes you a car." Jesus warned us of something similar when he told the parable of the sheep and the goats (Matthew 25:31-46). Simply calling yourself a Christian isn't the same thing as actually being one. No, God's people listen to His voice (John 10:27).
Faith comes by hearing, St. Paul tells us—specifically, by hearing the Word of Christ (Romans 10:17). And "hearing" isn't a one-time act. We constantly need to be listening to the Word of God. We need it to survive. As Moses explained, "Man does not live on bread alone, but on every word that comes from the mouth of the LORD" (Deuteronomy 8:3).
It's continual feeding on the Word that enlivens faith. We constantly need to hear the Law expose our sin. We constantly need to hear the Good News that Jesus died to take away that sin. We constantly need to hear that, through His resurrection, we are raised with Him to new life, now and forevermore.
This isn't a passive listening either. Once the Holy Spirit has called us and opened our hearts to believe, He then moves us to act. St. James encourages: "Do not merely listen to the word, and so deceive yourselves. Do what it says" (1:22).
God's people love His Word. "Oh, how I love your Law!" prays the Psalmist, "I meditate on it all day long" (Psalm 119:97). And as we immerse ourselves in the Word, we are transformed by it. We learn to "let the word of Christ dwell in us richly" (Colossians 3:16), and it changes the way we think. It leads us to act in new ways—to reject our sin and show love to our neighbour.
God's people don't simply let His Word drift by. They latch on to it. They hold on tight as if it were a life-preserver. That Word can lift them up and keep them from sinking, from drowning in sin and the storms of life.
God's people don't simply let His Word drift by. They latch on to it. They hold on tight as if it were a life-preserver.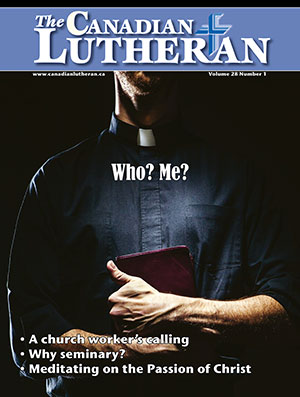 This issue of The Canadian Lutheran reminds us God has appointed special servants in the Church to teach us that Word. We all have a role to play in the Church, but some people are called to full-time ministry as pastors, or to support that ministry as other church workers. They keep our eyes on Christ, constantly reminding us—as Martin Luther does in this issue—that Jesus' death and resurrection is very Good News indeed, news we need to hear again and again.
This Lent, why not take the opportunity to "listen up" a bit more seriously? If you've never spent much time reading the Bible before, why not start? Read the Gospel of Mark; it's the shortest of the Gospels. Even if you read only one chapter a day, you'll be through it in sixteen days.
Bibles are certainly common enough; nearly everyone has one on a shelf somewhere collecting dust. Because they're common, it can be easy to forget just what kind of book the Bible really is. Think about it! It's God's own words! God Himself has written a message for you! He's close at hand, right now, speaking to you on those pages! Are you listening?
——————–
Mathew Block is editor of The Canadian Lutheran magazine and communications manager for Lutheran Church–Canada.