Ministry as Curiosity conference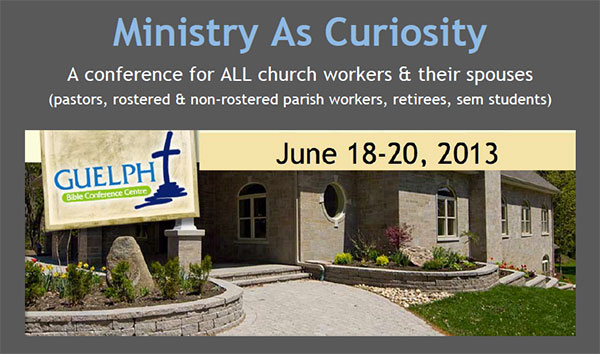 GUELPH, Ontario – Lutheran Church–Canada's Committee for the Care of Church Workers and their Families is sponsoring a "Ministry as Curiosity" conference June 18-20 at Guelph Bible Conference Centre.
"Traditions, values, and even institutions that were the mainstays of life are shifting," writes Rev. David Hilderman in promotional materials for the event. "This generates a lot of anxiety. How we respond to the anxiety affects our emotional well-being and our relationships with family, church, even our relationship with God. Developing curiosity about our dilemma helps us to clarify principles to live by and to discover better ways of responding."
The presenter for the event will be Rev. Dr. Michael Nel. Dr. Nel is a Lutheran pastor and member of the American Association of Pastoral Counsellors. He served parishes in Western Canada for 19 years, and currently is a pastoral counsellor with Living Systems.
The conference is designed to give church workers tools they need to better understand and manage how they function emotionally. It is designed for all church workers and their spouses, including pastors, rostered and non-rostered parish workers, retirees, and seminary students.
"Curiosity is about discovery," writes Rev. Hilderman. "It's about replacing blame with creativity and hope. It's about being constructive and optimistic about our future together. 'Wait upon the Lord and be of good courage;' aren't you curious about what He will do next? What a good way for you and me to get a perspective on our ministry, individually and together. Let's do it."
For more information, download the promotional package here. Registration is due June 1, and can be filled out online.
——————–