Christians in Canada drop to 67% of population
by James Morgan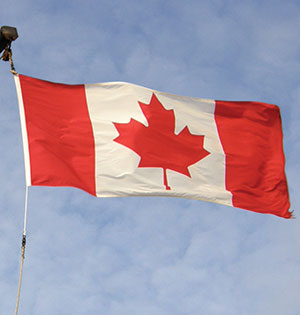 A new set of facts on faith in Canada are out. Statistics Canada has released the results of the 2011 National Household Survey (NHS) which gives an indication of various attributes of Canadian society, including the religious affiliation. Canada now has an approximate population of 32,852,300 people, and 67.3% of these identified themselves as affiliated somehow with the Christian faith. That's down from 2001's numbers when 77% of Canadians identified as Christian.
38.7% of Canadians identified themselves as Roman Catholic, making that denomination the largest per capita in Canada. The largest Protestant denomination per capita is the United Church of Canada, with 6.1% of the total population. The third largest is Anglicanism at 5%. Interestingly, the fourth largest group of Christians at 4.5% identified themselves simply as "Christian," with no indication of denominational affiliation. The next largest group was Baptists at 1.9% of the Canadian population.
Lutherans are further yet down the list. 478,185 survey respondents identified themselves as Lutheran (compare that with 605,590 in 2001), making Lutheranism the ninth largest Christian response on the NHS. After the Baptists came the Orthodox with 550,690 respondents in all Orthodox denominations. Next are generic "Protestant" with no denomination given (550,965). Then come Pentecostals (478,705), just ahead of Lutherans. After Lutherans come Presbyterians with 472,385 respondents.
The largest group of Lutherans were in Ontario with 163,460. The next highest figures are in Western Canada, starting with 119,340 in Alberta; 71,475 in British Columbia; 63,765 in Saskatchewan; and 40,915 in Manitoba. The number of Lutherans declines considerably east of Ontario, with 7,200 in Quebec; 9,485 in Nova Scotia; 1,080 in New Brunswick; 425 in Newfoundland; and 260 in Prince Edward Island. Statistics Canada's numbers do not record distinctions between the various Lutheran church bodies in Canada.
The NHS also records an increase in certain non-Christian faiths. The National Household Survey figures indicate 3% of those living in Canada in 2011 identified as Muslim, up from 2% in 2001. Hindus compose 1.5% of the population, while 1.4% are Sikh and 1.1% are Buddhist. According to Statistics Canada, recent immigration trends across the country are a major factor behind these numbers. People with these religious affiliations composed only 2.9% of immigrants who arrived in Canada before 1971. By contrast, 33% of immigrants who arrived between 2001 and 2011 were affiliated with these non-Christian religions.
The 2011 survey year was the first time this information was collected through a voluntary National Household Survey. Previously, the federal government distributed a mandatory, longer census form to selected households asking for similar information. Households selected for the NHS in 2011 were not required by law to respond, leading to varying participation rates across Canada. The federal government believed cancelling the mandatory long form would improve the privacy of Canadians but critics have argued the voluntary survey may lead to unreliable information for economic and social planning purposes. Indeed, Statistics Canada notes in its new report that "The [2011] estimates are derived from a voluntary survey and are therefore subject to potentially higher non-response error" than in previous years.
———————
James Morgan is a writer and former broadcaster living in Gatineau, Quebec where he is completing a Ph.D in History at the University of Ottawa. His home congregation is Trinity Lutheran near Gowanstown, Ontario, and he also worships at the Lutheran Tri-Parish of Western Quebec.