2013 Missions Newsletter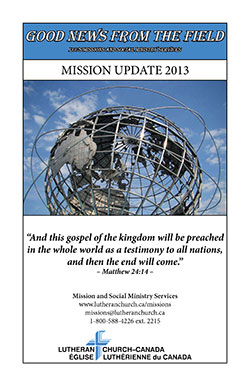 ONLINE – Lutheran Church–Canada (LCC) has released its annual Mission Newsletter, highlighting its mission work around the world.
"Through this newsletter, LCC's Missions and Social Ministry Services wants to share with you some highlights from LCC's mission work this past year," explains Rev. Dr. Leonardo, LCC's Executive for Missions and Social Ministry. "By God's grace, we and our partner Lutheran churches throughout the world have been active in faithfully proclaiming the Gospel to their congregations, in training seminarians, and sharing the faith, in both small and big ways—to families and friends, to neighbours, in the cities and in the country, to the various ethnic groups and nations where the Lord Jesus has placed our workers."
This year's newsletter highlights LCC's missions in Nicaragua, Honduras, Costa Rica, Ukraine, Thailand, Cambodia, and Canada.
Download a high-quality pdf of the newsletter to print-off at home. (Be sure to select "booklet" when you print it off). If you intend to read it on your computer without printing it off, use this version.
For more information on LCC's missions, visit www.lutheranchurch.ca/missions. You can support LCC's Missions and Social Ministry Services by giving online or sending donations by mail to LCC's office in Winnipeg:
Lutheran Church–Canada
3074 Portage Avenue
Winnipeg, MB  R3K 0Y2
Canada
———————