French and English Lenten devotions now available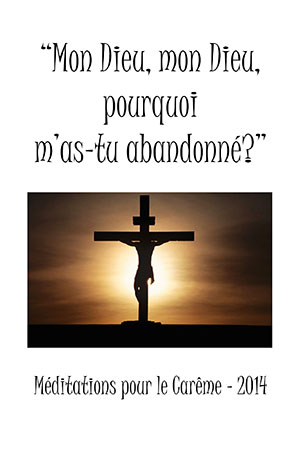 ONLINE – Members of Lutheran Church–Canada (LCC) have long been familiar with the Lenten devotions produced by Lutheran Hour Ministries (LHM), thanks to the work of Lutheran Laymen's League of Canada in making copies of the publication available across the country. But this year, LCC members (and others) have the opportunity to make use of the devotions in a new way: by reading them in French.
"Sightings of new French-language Lutheran publications are rare," explains Rev. Dr. David Somers, Francophone missionary in LCC's East District. This is all the more reason to rejoice over the latest publication: a French translation of Lutheran Hour Ministries' 2014 Lenten devotional My God, My God, Why Have You Forsaken Me?
"This is the first time the English and French texts will be available for the same year's Lenten devotional," Dr. Somers notes. What is more, he explains, "This is the first time in 20 years there has been a new French-language Lenten devotional."
The French translation—Mon Dieu, mon Dieu,pourquoi m'as-tu abandonné?—is being made available online. Its production was made possible through an annual budget set aside by LCC for the production of literature to benefit Francophones around the world—with special attention paid to French-speaking people in LCC and the Evangelical Lutheran Church–Synod of France (Église Évangelique Luthérienne–Synode de France).
2013's funds were used to support production of the quarterly Amitiés Luthériennes and the Synod of France's daily devotional Notre Culte Quotidien. Previous years have seen the funds used in the production of LCC's Liturgies et Cantiques Luthériens and the translation of various booklets from Lutheran Women's Missionary League–Canada and Lutheran Hour Ministries.
Download a pdf of the French devotional here (if you intend to print it off, you may wish to select "Booklet" in your print options). For the English version (available to read online, download, or hear as a podcast), visit the website of Lutheran Hour Ministries.
———————