2014 Missions Newsletter now available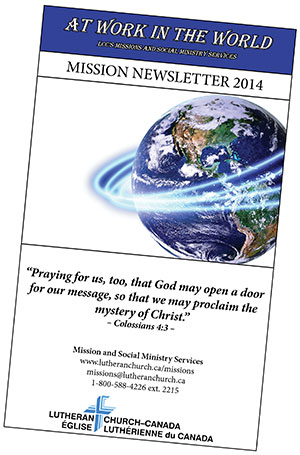 ONLINE – Lutheran Church–Canada (LCC) is pleased to announce the release of its 2014 Mission Newsletter, highlighting its mission work around the world.
"Through the centuries, many have sown the seed of God's word with boldness and joy—sometimes while facing suffering, persecution, and martyrdom," Dr. Neitzel writes in the introduction to this year's newsletter. "As a result, new Christians and churches have sprouted and grown, both at home and abroad. Those who receive the word and believe in the sacrifice of Jesus Christ for them are blessed through it, both here and in eternity. They become a beacon of blessings to others, and the chain of sowers continues."
This year's newsletter highlights how the seed was first planted in LCC's mission areas around the world, and how that seed continues to grow and bear fruit. "The focus of this year's Mission Newsletter," explains Rev. Dr. Leonardo Neitzel, LCC's Executive for Missions and Social Ministry, "is to provide a brief snapshot of Lutheran Church–Canada's partners in mission around the world. For each church, you'll find a short history, current membership statistics, and information on recent project LCC has supported in their countries."
Countries highlighted in this year's newsletter include Ukraine, Cambodia, Thailand, Nicaragua, Honduras, Costa Rica, and Canada.
Download this high-quality pdf of the newsletter and print it off at home. (Be sure to select "booklet" when in the printing options.) Alternately, if you only want to just view the newsletter on your computer, download this web-friendly pdf.
The Mission Newsletter is released annually, with each edition focusing on a different aspect of LCC's missions. 2013's newsletter focused on ongoing projects in each of LCC's mission-regions, while 2012's highlighted the work of LCC's Listed Service Organizations and Auxiliaries.
For more information on LCC's missions, visit LutheranChurch.ca. You can support LCC's Missions and Social Ministry Services through online giving, or by sending donations by mail to LCC's office in Winnipeg:
Lutheran Church–Canada
3074 Portage Avenue
Winnipeg, MB  R3K 0Y2
Canada
———————