2015 Mission Newsletter now available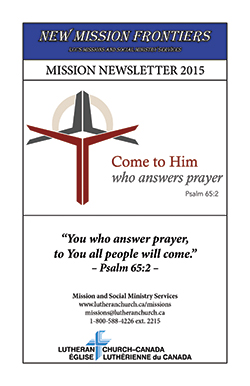 ONLINE – Lutheran Church–Canada (LCC) is pleased to announce the release of its 2015 Mission Newsletter, highlighting this year's mission work around the world.
"Our Synod's current triennial theme is is taken from Psalm 62:5: 'Come To Him Who Answers Prayer,'" notes Rev. Dr. Leonardo Neitzel, LCC's Executive for Missions and Social Ministry. "These triennial themes encourage each of us, as individual church members, congregations, families, and other entities of the church to study God's Word, to pray, to plan, to work, and to promote outreach events as a witness to the Lord's Kingdom. Likewise, LCC's mission fields are regularly encouraged to use these themes to guide their work too."
This year's newsletter highlights new mission opportunities that LCC is exploring around the world. "As we give Jesus glory, abide in His Word, and come to Him who answers prayer, the Church is strengthened and enabled to reach out to the world with the Gospel of salvation," Dr. Neitzel explains. "This year's Mission Newsletter showcases answers to Lutheran Church–Canada's prayers in the form of new mission frontiers during the past two years and ongoing international mission work. The main purpose is to highlight some of the many blessings our Lord has bestowed on the various world regions where LCC is active sowing the seed of God's Word."
Mission and social ministry successes highlighted in this year's newsletter include music ministry, youth outreach, Bible studies, deaconess training, agricultural support, computer education, children's feeding programs, church worker wellness, theological education, and more. The newsletter also highlights specific prayer needs for each of the world regions where  LCC is active sharing the Gospel.
Download this high-quality pdf of the newsletter and print it off at home. (Be sure to select "booklet" in your printing options.) Alternately, if you only want to just view the newsletter on your computer, download this web-friendly pdf.
The Mission Newsletter is released annually, with each edition focusing on a different aspect of LCC's missions. 2014's newsletter explained the history and the current status of LCC's various mission focuses. The 2013 newsletter focused on ongoing projects in each of LCC's mission-regions, while 2012's highlighted the work of LCC's Listed Service Organizations and Auxiliaries.
For more information on LCC's missions, visit LutheranChurch.ca. You can support LCC's Missions and Social Ministry Services through online giving, or by sending donations by mail to LCC's office in Winnipeg:
Lutheran Church–Canada
3074 Portage Avenue
Winnipeg, MB  R3K 0Y2
Canada
———————