My First Exorcism: LCC chaplain's new book tackles demons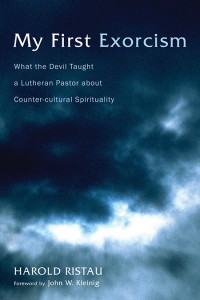 CANADA – Rev. Dr. (Maj.) Harold Ristau has published a new book entitled My First Exorcism: What the Devil Taught a Lutheran Pastor about Counter-Cultural Spirituality.
While written primarily for clergy, the book will also be of interest to laypeople. In it, Dr. Ristau discusses the nature of demonic activity, drawing on his personal experience with the ministry of exorcism. "His reflections offer a springboard intended to stimulate critical thinking, challenge metaphysical presuppositions, and inspire a belated conversation on a topic that has traditionally been avoided, not because of a lack of empirical evidence, but due to the fear that it incites inside of us," the book notes. "Yet if the claims of the historic Church are true—that demons do in fact exist and seek our destruction—then an honest examination of the phenomenon, and its impact on the ways in which we live and reason, is an essential endeavor for any practitioner of the ministry of deliverance."
The book features a foreword by noted Australian theologian John W. Kleinig. "Ristau is to be commended for his sober, pragmatic approach to an issue that is all too often treated sensationally," Dr. Kleinig writes. "By telling his story and sharing his personal reflections on its significance, Ristau encourages all pastors and faithful Christians to be vigilant against the devil in all his many guises and to resist him by their faith in Jesus."
Royalties for sales of the book will go to Wounded Warriors Canada. The book is published by Wipf and Stock, and you can read an excerpt at Amazon here.
Dr. Ristau is a Lutheran Church–Canada chaplain with the Canadian Armed Forces. He is also the author At Peace with War: A Chaplain's Meditations from Afghanistan and Understanding Martin Luther's Demonological Rhetoric in His Treatise Against the Heavenly Prophets (1525).
———————