Praying for missions with the 2016 Missions Newsletter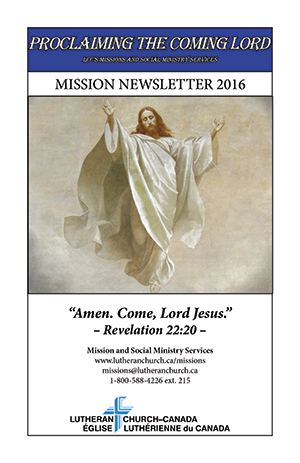 ONLINE – Lutheran Church–Canada (LCC) has now released the 2016 edition of its annual Missions Newsletter, with hopes that Canadians will keep missions at the forefront of their prayers this Advent season.
"LCC's theme for the triennium is taken from Psalm 65:2 and is 'Come to Him who answers prayer,'" notes Rev. Dr. Leonardo Neitzel in the newsletter's introduction. "We encourage you to pray for the Lord's mission through LCC and for each of the workers and projects that you see in this newsletter." Dr. Neitzel is LCC's Executive for Missions and Social Ministry.
"In 2016, many people were touched by the love of Jesus," he continues. "Along with all heaven, we rejoice over even one lost soul that is brought to Christ. And you can too, as you read through LCC's mission highlights of the past year."
Topics explored in this year's newsletter include LCC's international missions and social ministry projects in the training of pastors and deaconesses, continuing education, children's programs, youth ministry, outreach to public schools, emergency relief, and support of full-time missionaries. Closer to home, it also discusses ongoing ethnic outreach in Canada.
Download this high-quality pdf of the newsletter and print it off at home. (Be sure to select "booklet" in your printing options.) Alternately, if you only want to just view the newsletter on your computer, download this web-friendly pdf.
For more information on LCC's missions, visit LutheranChurch.ca. You can support LCC's Missions and Social Ministry Services through online giving, or by sending donations by mail to LCC's office in Winnipeg:
Lutheran Church–Canada
3074 Portage Avenue
Winnipeg, MB R3K 0Y2
Canada
———————