LCC membership down, junior confirmations up in latest statistics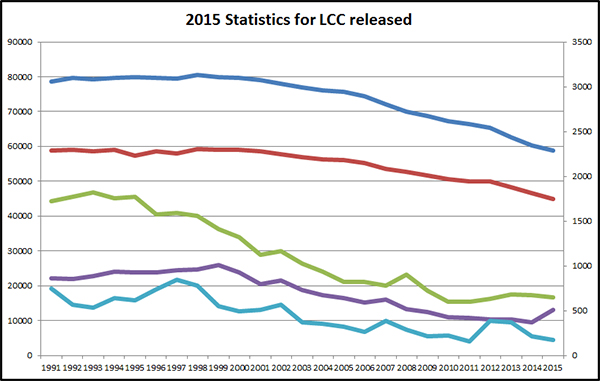 CANADA – The 2015 statistics for Lutheran Church–Canada (LCC) have been released and they note, for the first time ever, a decrease in membership to below 60,000 members.
In 2015, LCC counted a baptized membership of 58,745. That's down from the year previous, when baptized membership was at 60,291. Confirmed membership is likewise down, sitting at 45,018 in 2015 (down from 46,673 members in 2014). LCC's baptized membership has been in uninterrupted decline since 1999, while confirmed membership has been in uninterrupted decline since 2001.
Average weekly attendance at congregations also continued its decline in 2015, down to 63 from 67 the year prior. Average communion attendance, however, is up with confirmed members of LCC communing an average of seven times in 2015 (as opposed to just five in 2014).
The number of children baptized in 2015 dipped slightly to 652. That's less than the 670 baptized in 2014, but still above the number of children baptized annually from 2010-2012. 2011 marked the lowest number of children baptized on record with just 598.
The number of juniors confirmed in 2015 (511 juniors) bounced back from 2014's record low of 370. In fact, the number of confirmed juniors in 2015 is the highest since 2008. With the exception of negligible increases in 2002 and 2007, the number of juniors confirmed into membership in LCC has otherwise been in decline since 2000. 2015's jump is therefore good news.
The number of adults received into membership in 2015, however, was down—just 170, compared to a year prior when 213 adults were received. That's still above 2011's record low of 154, but is less than half the number recorded in 2012 and 2013 (when 389 and 370 adults respectively were received into membership).
The number of congregations holding Sunday School classes in 2015 rose to 188 (from 168 the year prior). But the number of pupils dipped to an all-time low of 1,830 (down from 2,637 in 2014). The number of congregations holding Vacation Bible Schools was also up (142 from 123 the year prior), though likewise with a drop in over-all attendance (4,738 in 2015 as opposed to 5,628 in 2014). Weekday religion class attendance nearly doubled in 2015 to 1,145 (compare with just 618 the year prior). Reported attendance at Bible Study classes, however, dropped dramatically: just 1,876 in 2015 compared to 3,701 a year earlier.
In 2015, Lutheran Church–Canada counted 301 congregations. 71 congregations did not send in statistical reports for the 2015 year (compare with 160 who did not send in reports in 2014). LCC congregations are reminded that statistical reports for the 2016 year must be submitted to LCC by March 31, 2017.
In 2014, The Canadian Lutheran published an in-depth analysis of Lutheran Church–Canada's statistical data and the challenges they represent. "Lutheran Church–Canada in Numbers" situates LCC's current situation in the context of wider Canadian society and further suggests steps that may be taken to begin reversing these troubling trends. Read the article for more information.
———————