Government of Canada to match donations for famine relief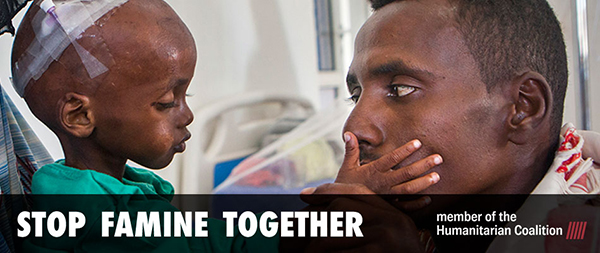 CANADA – At the end of May, the Government of Canada announced that for every eligible donation made by individual Canadians to registered Canadian charities between March 17 and June 30, 2017, it will contribute an equivalent amount to the Famine Relief Fund.
More than 20 million children, women, and families in South Sudan, Yemen, Somalia, Nigeria, Ethiopia, and Uganda are suffering and in need of urgent humanitarian aid and the Humanitarian Coalition's member agencies are on the ground providing life-saving assistance. Canadian Lutheran World Relief (CLWR) is working with local partners in Ethiopia and Uganda to meet the urgent needs of drought-affected people through the promotion of climate resilient food production.
In Ethiopia, CLWR is constructing irrigation systems that will help improve the food production of small-scale farmers and pastoralists who are affected by devastating droughts. In Uganda, CLWR is working to provide shelter, hygiene and nutritional support to South Sudanese refugees displaced by famine and conflict. CLWR is also developing a project in Uganda to meet the food and nutrition needs of South Sudanese refugees who are experiencing malnutrition.
The Humanitarian Coalition, a national coalition comprised of seven agencies that are responding to the food crisis—of which CLWR is a member—has launched a joint fundraising campaign: "Stop Famine Together." They encourage Canadians to contribute to their response to the food crisis.
"The present circumstances are very concerning. While CLWR has been engaged in response to increasing food shortages and the movement of refugees, we see the need escalating and becoming acute," says Robert Granke, CLWR Executive Director.
"We welcome the Government of Canada's Famine Relief Fund, which will double the impact of Canadians' donations to help stop the famine," he says. "By working together, we can save more lives and respond better to this potentially catastrophic situation."
You can donate online here.
———————