Criminal code change may affect churches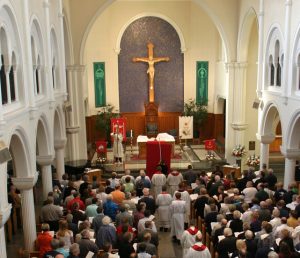 OTTAWA — Before Parliament recessed for summer, the Liberal government introduced Bill C-51: "An Act to amend the Criminal Code and the Department of Justice Act and to make consequential amendments to another Act." The goal of the legislation is to update Canada's Criminal Code. However, one change has caught the attention of Canada's faith communities.
Currently, it is against the law to disrupt a worship service, or any meeting or assembly of any kind.
Section 176 of the Criminal Code states:
176 (1) Every one who
(a) by threats or force, unlawfully obstructs or prevents or endeavours to obstruct or prevent a clergyman or minister from celebrating divine service or performing any other function in connection with his calling, or
(b) knowing that a clergyman or minister is about to perform, is on his way to perform or is returning from the performance of any of the duties or functions mentioned in paragraph (a)
(i) assaults or offers any violence to him, or
(ii) arrests him on a civil process, or under the pretence of executing a civil process,
is guilty of an indictable offence and liable to imprisonment for a term not exceeding two years.
Disturbing religious worship or certain meetings
(2) Every one who wilfully disturbs or interrupts an assemblage of persons met for religious worship or for a moral, social or benevolent purpose is guilty of an offence punishable on summary conviction.
Bill C-51 deletes this provision from the criminal code.
"One wonders whether the Government is seeking to curtail the rights of Canadians to worship or gather undisturbed," noted Lutheran Church–Canada (LCC) president, Rev. Dr. Robert Bugbee. "People of all faiths and those who conduct public meetings should be concerned by this."
The legislation is now before the Standing Committee on Justice and Human Rights which will meet in the fall. A number of opposition MPs have expressed concern over the change and the Evangelical Fellowship of Canada is monitoring the discussion and plans to bring its concerns to the Minister of Justice.
Dr. Bugbee believes that "if passed as it is, this legislation could have an unexpected effect on churches and other worshipping communities." He suggests that members of LCC congregations familiarize themselves with the issue and speak with or write to their Member of Parliament, Minister of Justice and Attorney General, the Honourable Jody Wilson-Raybould, or members of the committee.
Lutheran Church-Canada will continue monitoring the legislation as it passes through the committee stage.
———————