Back to the Catechism: Table of Duties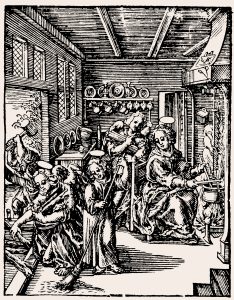 by Edward Kettner
This article reflects on the section of Luther's Small Catechism dealing with the Table of Duties. Read the relevant portion online in contemporary English here.
The Christian life is a life lived in community. Each person has a number of "callings," or "vocations," in which they are placed, and which carry with them duties and obligations toward one another. We have these duties and obligations both in the Church and in society. As Luther moves forward in the Catechism, he outlines the shape of the Christian life in the context of these vocations in what, in German, he refers to as the Haustafel, literally translated as "house table," and commonly referred to in English as the "Table of Duties." Luther looks at the various relationships Christians have in their daily lives and notes significant Bible passages describing those mutual relationships and how they complement each other.
Contemporary understanding
In our egalitarian society it is tempting to resent some of the instructions in this table which in certain estates carry with them ideas of subordination and even obedience. Yet, if society and the Church are to be properly ordered under God, we should expect this, and even embrace it. It is interesting that the Book of Concord never instructs us on how to preserve and grasp our own rights, but rather speaks of our obligation to preserve the rights of others. Because we remain sinners even as we are the redeemed children of God, we need instruction and admonition.
Often, when Paul presents the Good News which is the Gospel of salvation, he follows it with a "therefore." This "therefore" is not to be understood as a "but," as in: "You are saved, but now you had better be doing these things to remain in God's good graces." Rather, Paul talks about the shape of the Christian life, what the life of a child of God looks like as Christians live out their vocations in Church and world. In Christ we have been raised from death to life, and Paul then goes on to describe what that life looks like.
First things first
Luther begins with the Church, noting what is expected of those holding the Office of Public Ministry, and then noting what the hearers owe their pastors. Pastors, as called servants of Christ, are expected to be faithful to God's Word in their preaching and teaching for only such preaching and teaching will bring people out of spiritual death to life and maintain them in the life to which God has raised them. The called ministers and teachers are to demonstrate a proper character and demeanour that they might be examples to the flock. The people of God in turn are to support their pastors and teachers. Faithful pastors and teachers are to receive their livelihood through their ministry and are to be respected by those they teach and care for. When both pastors and people faithfully carry out their duties, both teachers and hearers will live and serve joyfully.
Civic authorities
From there the table goes on to note the nature of civil government and of citizenship. Government receives its authority from God, and those who resist the authorities resist what God has appointed. Citizens are to be subject to the governing authorities. Even words like "submissive" and "obedient" are used. We should note that in our age many nations, including Canada, give citizens the right to elect their own leaders and to petition and protest if they have grievances. For this we are thankful. Yet we must also note that even when we disagree with certain actions of the government, we remain subject to it for the sake of peace and order.
The relationship between husband and wife is complementary, not egalitarian.
Family
As Luther talks about the family, he looks at the mutual relationships first between husbands and wives and then between parents and children. The relationship between husband and wife is complementary, not egalitarian. The Scriptures noted here make it clear that husbands and wives are joint heirs of grace, and that each is to treat the other with respect. Even as wives are instructed to be submissive to their husbands, this is to be seen as something that happens willingly not as a result of force, recognizing that husbands are to love their wives and act in ways that have their best interests at heart. Children are rightly called upon to obey their parents whom God has placed over them. Yet parents also have the duty to love their children and not to provoke them to anger. Children are to be disciplined when necessary, but they are to be encouraged rather than stifled to the point of discouragement.
At work
He then looks at the duties of workers and those of employers and supervisors. The Ephesians' passages cited here generally speak of a master-servant relationship. While employer and employee do not have precisely the same type of relationship, there remain principles that apply to that relationship as well. Workers are to remain faithful in their vocations, and serve with good will, not trying to subvert the authority of their supervisors. Employers are to treat their employees with good will as well, not in an abusive or threatening manner. These duties should particularly be carried out by Christians to serve as an example to the world around them as to how respectful relationships create a beneficial work environment.
Specifics
To youth he notes the words in 1 Peter 5:5-6 that they should behave and act with respect and humility in whatever tasks they undertake or are given to them.
To widows he points to St. Paul's words that encourage them to devote their lives to prayer and not to be self-indulgent. This does not mean one must live one's life in seclusion, but rather emphasizes that out of the misfortune of widowhood may come opportunities for service to the Kingdom.
Et al
Finally, to everyone he points to Romans and 1 Timothy, directing all Christians to "love your neighbour as yourself," and to bring prayers and supplications before God for all people. This we do in our general prayers during public worship and is something we are called to do in our private prayers as well.
In conclusion
At the end, Luther concludes with the adage,
"Let each his lesson learn with care,
And all the household well shall fare."
That final statement sums things up nicely. These rules and instructions are given not merely to command obedience for the sake of obedience, but because they show us how life ordered in such a manner serves peace and unity. It reminds us that God desires us to live in peace with one another not clamouring for "personal autonomy" or for the assertion of our own rights over other people, but that we all live serve others and to help them live happy and productive lives.
Rev. Dr. Edward G. Kettner is Professor Emeritus of Systematic Theology at Concordia Lutheran Seminary (Edmonton).