Prayers for peace in Nicaragua answered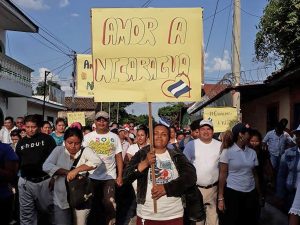 CHINANDEGA, Nicaragua – After almost a week of protests over social security tax increases and reduced pensions the Nicaraguan government reversed the new policy after conducting discussions with business leaders bringing about a fragile peace. The demonstrations in the capital city Managua, mostly by students, turned violent when police and military intervened. Some reports state up to 25 people died.
Over the weekend the protests erupted in other urban centres including Chinandega, site of Lutheran Church–Canada's mission centre, as well as Leon, Matagalpa, Granada, and Masaya—all cities served by Lutheran Church Synod of Nicaragua (ILSN) pastors and deaconesses.
Pastor Luis Dias Turcios, who served a term as the president of the Lutheran Church Synod of Nicaragua (ILSN), reported that a criminal element joined the Chinandega protests and began looting businesses. The usually busy central market was abandoned Saturday as business owners feared they would lose everything.
Despite the civil unrest, on Sunday ILSN pastors conducted services during which members prayed for a peaceful resolution to the crisis. Jane Ford, a member of LCC's missions committee and organizer of ongoing mission trips to Nicaragua reported that in Villa Quinze, Rev. Silvio conducted the planned baptisms in his rural parish.
Many LCC congregations also offered prayers for Nicaragua and are encouraged to continue.