LCC welcomes new Communications Director and Canadian Lutheran Magazine announces new editor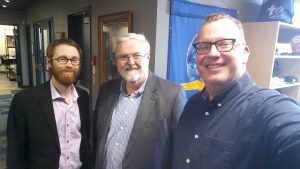 The LCC Board of Directors is pleased to announce the hiring of Christopher Pelletier as Director of Communications. As Assistant to the President for Communications, he will provide leadership and guidance in the ever-changing communication landscape. Pelletier is responsible for effective communication to LCC's constituencies in all media.
Born and raised in Cobourg, Ontario, Pelletier has been involved in the field of media and communications for more than 20 years. Prior to relocating to Winnipeg in the fall of 2016, Chris was the owner and operator of a news and information website for Northumberland County. Pelletier has worked on "both sides of the microphone" as a reporter and communications professional and started with the LCC on May 1st and operates out of the Winnipeg office.
The Canadian Lutheran, the official magazine of Lutheran Church Canada is pleased to announce the re-appointment of Mathew Block as its editor. Previously, Block had been LCC's Communications Manager and has since moved to Swan River, Manitoba. Mathew will continue in his role as an editor for the International Lutheran Council.
LCC's first Director of Communications Ian Adnams had been acting as interim director since Block's departure and will continue with the organization in an advisory capacity until July.
The Canadian Lutheran is the official publication of Lutheran Church-Canada and presents news and features on various aspects of the church's mission and ministry.