A Silver Celebration – Celebrating 25 years of LWMLC
by Eloise Schaan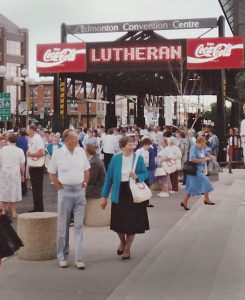 This year marks the 25th anniversary of Lutheran Women's Missionary League-Canada (LWMLC) and excitement is high as women across the country celebrate its birth. On June 21, 1993, this organization became the official women's auxiliary of Lutheran Church–Canada (LCC) and, as such, supports its mission outreach.
Long history
LWML was not new to the women in Canada as, prior to 1993 we, along with women from the United States, were part of the International Lutheran Women's Missionary League (ILWML). League activity began in Canada in the early 1940s with the women from Bruderheim, Alberta, forming the first LWML society in Canada. Across the country societies were created, and these societies joined together to form regional districts which became districts of the national LWML organization in the United States: Laurentian District – May 15, 1950; Ontario District-October 15, 1950; Alberta-British Columbia District – July 4, 1951; Manitoba and Saskatchewan – October 12, 1953; and Ontario Sonset – July 20, 1990 (previously part of Minnesota North).
Canadian-made
With the forming of Lutheran Church–Canada in 1988, the women were encouraged to work toward becoming a Canadian organization, an auxiliary of the newly-autonomous church. The "mother" LWML was very supportive and worked with the women in Canada toward this goal. Immediately following the ILWML convention in Edmonton in 1993, more than 800 women from across Canada and fellow sisters from the United States attended the Founding Convention of Lutheran Women's Missionary League-Canada. The new organization adopted the motto "Called to Serve" with the supporting scripture verse Deuteronomy 10:12 where God asks us to fear Him, to walk in His ways, to love Him and to serve Him. This has remained the focus of LWMLC throughout the past 25 years and will continue to be the focus in the coming years.
Gifts and talents
Although several Canadian women had served in elected position and/or on committees of ILWML, we were now on our own and had to fill all the positions ourselves. One of the challenges we faced was finding women for all the positions and committees, but, as usual, God puts the right people in the right place at the right time – all we have to do is to completely put our trust in Him and then follow as He leads. Women from across Canada were excited about all of this and were willing to serve in any way they could using their God-given gifts. We worked with what we knew, but soon found the structure of ILWML too much for our much smaller organization. It took a few years, but eventually we reached a place that worked for us. Getting to know and to work with women from all parts of the country was such a blessing.
Stewardship
Those early years were challenging. Mission outreach was, and still is, our primary focus, but we knew the executive would have to meet and that meant spending money. We held our meetings in various cities with every effort made to be as economical as possible, women were billeted and meetings held in churches with local societies providing meals. In those days, before computers and various other technological devices were as widely used as they are now, communication was primarily by telephone or regular mail.
New resources
If we didn't know it before, it soon became apparent there are many gifted women in Canada. As a result, LWMLC has produced its own resources – printed materials such as devotions, Bible studies, seminar programs, and also items designed for personal use or as gifts. For the first several years we stored them in homes of the officers and it soon became apparent we needed to have a home base. LWMLC approached LCC to see if it would be possible for us to have a room in its office building in Winnipeg. The Synod graciously provided one and we finally had a home with a street address. Lillian Friesen volunteered to manage the office part-time for a number of years. Margaret Klatt began assisting Lillian and, when Lillian felt the need to retire, took over as office manager.
Misson support
Mission grants supporting LCC in its mission and ministry have always been of prime importance, and in the past 25 years LWMLC nationally and at the district level has granted more than $2.5 million to mission projects in Canada and throughout the world where LCC has a presence. God has truly blessed this outreach and made a difference in many lives as a result. Each convention, both national and district, chooses outreach projects and sets a mission grant goal which is achieved by the time of next convention.
Pastors
From the beginning, LWMLC has always been blessed with Pastoral Counsellors who serve in an advisory capacity on both national and district boards. General Council and all committees have one or two Counsellors working with them at all times. The support of LCC boards, both Synod and District, has been very much valued. Of great importance is the support and encouragement from our parish pastors as we work together to bring the saving Gospel of Jesus Christ to others, both at home and throughout the world.
Called to Serve
LWMLC is a voluntary organization and the women volunteer generously their time, talents and treasures. There are no membership fees and financial support is through mites (mission offerings) and special gifts/bequests. God has graciously gifted us here in Canada and the women (and perhaps also some men) are very generous in giving their gifts as they live LWMLC's motto "Called to Serve."
Tapestry, our quarterly magazine, has been in the capable hands of Marion Hollinger and her Editorial Committee since its beginning. It includes timely articles, three Bible studies, and news of happenings in societies, zones, districts and nationally. Its fine content, over the years has garnered various awards.
Being in the Word is of prime importance, and as we grow in the Word, God puts all kinds of opportunities before us. We learn to trust Him completely in what we say and do. We learn to value our families as special gifts He has given us. We learn to be more comfortable in our relationships with others. It can be said that an LWMLer is one who follows God's call to serve by using the gifts He has given her where He has placed her.
The world in which we live has changed dramatically in the past 25 years, with a resulting impact on LWMLC. Advances in technology have created changes: email has taken the place of many telephone calls and regular mail; on-line meetings have replaced many previous face-to-face meetings; and many gifts have been developed and/or enhanced using this technology. However, with all these changes, one thing has never and will never change: the focus of LWMLC which is being in the Word and serving our Lord with the gifts He has given to each one of us. To Him be all the glory!
Eloise Schann served as first president of LWML-Canada. She is a member of Christ Risen Lutheran Church in Kanata, Ont.