LCC's Work in Costa Rica Resumes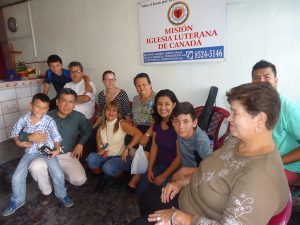 Recent discussions between Iglesia Luterana-Sínodo de Nicaragua (ILSN) and Pastor Edmundo Retana have resulted in the reinstatement Rev. Retana and the congregation in Cartago. The announcement of the decision from ILSN President Marvin Donaire last week immediately re-activated the work of Lutheran Church Canada (LCC) in that country.
The mission's work involves weekly worship was sponsored by grants from the Concordia Lutheran Missionary Society. The suspension of work meant an end for more than a decade of Gospel outreach, Lutheran Church–Canada work in Costa Rica.
LCC President Timothy Teuscher states "We thank and praise our gracious and merciful Lord that this matter has been resolved and that the work of proclaiming the Gospel in Costa Rica is now continuing."
Rev. Retana first contacted LCC after he had responded positively to a number of theological documents posted on a LCMS CTCR website. He was introduced to the LCC missionary in Costa Rica, by Rev. Pedro Adolfo Quintero. He had worked in a Lutheran Church (LWF) in San José at the time as well as teaching occasional theological courses at the University in San José.
Following completion of his colloquy program at the ILSN, Rev. Retana was examined and upon acceptance, was issued a call by ILSN and ordained in Costa Rica by ILSN President Rev. Luis Diaz. He began his work in the area in which they lived and after returning to Nicaragua, he continued that ministry in the area south of San José in addition to his own. Dea. Solórzano Cevallos formally joined the work after her consecration as an ILSN deaconess 5 years ago.
Psalm 133
A song of ascents. Of David
1 How good and pleasant it is
when God's people live together in unity!
2 It is like precious oil poured on the head,
running down on the beard,
running down on Aaron's beard,
down on the collar of his robe.
3 It is as if the dew of Hermon
were falling on Mount Zion.
For there the Lord bestows his blessing,
even life forevermore.