Restructuring Update: Preparing for the Next Phase—Concrete Recommendations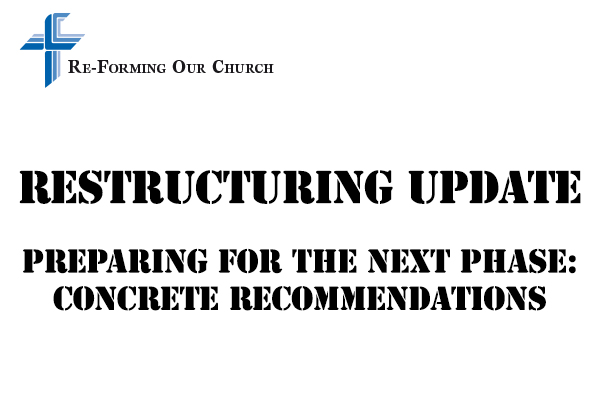 CANADA – Work on Lutheran Church–Canada's restructuring process has continued in recent months, with Phase 2 of the two-year process consisting of a nation-wide sharing of the LCC National Survey results.
As of early June, more than 1,500 people have read the news story announcing the results via CanadianLutheran.ca, with more than 700 of these downloading the full 800-page survey results and comments. Approximately 1,000 people have read the Commission on Constitutional Matters and Structure's (CCMS) summary document "Insights on the Survey for Discussion," while more than 500 people have downloaded the CCMS' detailed analysis. These numbers do not include, of course, those who have read the news via the physical copy of the magazine, nor those who have accessed the information via district and circuit discussions that have taken place across the country.
Representatives of the Commission on Constitutional Matters and Structure have met with Boards of Directors and circuit counsellors in all three districts, representatives of both seminaries, and Church Workers Conferences in the East District and ABC District. Circuit counsellors received training in presenting the survey results in their circuits.
The CCMS is reviewing the Interim Assessment prepared by the consultant, letters from the District Boards, and numerous reports from circuit gatherings in order to prepare for Phase 3: the development of recommendations for restructuring. The CCMS and LCC's Board of Directors plan to meet jointly on June 27, with the CCMS meeting privately for an additional two days. Their ultimate recommendations will be strongly influenced by the survey results and subsequent discussion and responses from the Districts and circuits. It is expected their recommendations will include several structural suggestions that will require more input from the members of Synod. The CCMS plans to share the recommendations in early July.
Phase 4 is the six-month Synod-wide discussion and response to the CCMS' Recommendations. During this period from July to December, Commission representatives will meet with District and seminary Boards of Directors, circuit counsellor and representatives of auxiliaries and Listed Service Organizations.  Those district and circuit discussions will result in the final formulation of the proposed structure documented in a revised Handbook and further review and the 2017 Convention for a final decision.
For more information on the seven-step process for the restructuring of Lutheran Church–Canada, visit: www.canadianlutheran.ca/a-restructuring-roadmap-lcc-seeks-structure-for-the-next-generation/.
To see results of the LCC National Survey and the CCMS' analysis of that survey, visit www.canadianlutheran.ca/restructuring-update-survey-results-released/.
———————