2016 Advent devotions available in English and French
November 27, 2016
No Comment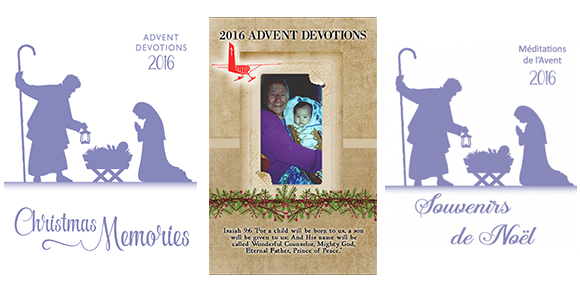 ONLINE – Christians hoping to spend more time in prayer and devotion this Advent season will benefit from newly released devotionals from Lutheran Hour Ministries (LHM) and Lutheran Association of Missionaries and Pilots (LAMP).
The theme for this year's devotional from LHM is "Christmas Memories" (or, in French, "Souvenirs de Noël"). "Thinking back on Christmases past is a fun way to reflect on the good old days," the booklet explains. "The wonderful lights  and decorations, festive holiday atmosphere, warm family get-togethers, unforgettable melodies, and jovial Christmas cheer all make for pleasant memories. But our hearts aren't merry for these things alone…. It is the Gift of God—His own beloved Son—whom we joyously adore with our hearts this Advent season. Jesus, who took on human flesh so that we might partake of His divine redemption is the One our Christmas memories turn to, worshipping and adoring Him for all He has done for us."
You can download, read online, receive as daily emails, or listen to LHM's Advent devotions in English here. You can download the booklet in French here.
"Our Advent devotions are once again this year all about Jesus," Rev. Bill Ney writes in the introduction to this year's LAMP devotional. "Actually, they are all about God's plan to save sinners through the birth, life, death, and resurrection of His only-begotten Son, Jesus Christ. Every day in Advent we will be reminded of that reality and also of the reality that the Good News—that we are saved by God's grace through faith in Jesus Christ alone—is being daily impressed on our brothers and sisters in Christ in Canada's northern indigenous communities."
You can download, read online, or receive as daily emails LAMP's 2016 Advent devotional in English here.
LHM and its Canadian counterpart are both auxiliaries of Lutheran Church–Canada, while LAMP is a listed service organization.
———————