2017 World Watch List ranks most dangerous countries for Christians
February 7, 2017
No Comment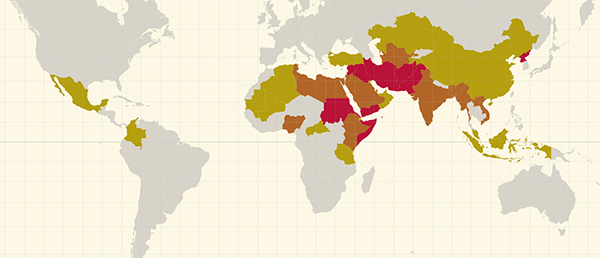 WORLD – Open Doors, an international ministry that attends to the needs of persecuted Christians has published the latest edition of its World Watch List, which ranks the 50 countries where being a believer in Jesus Christ is most dangerous.
North Korea remains at the top of the list, a position it has held for 15 years. Christians there cannot show any public expression of their faith, and doing so will find them imprisoned or executed. Somalia is in second place due to continued Islamic radicalism and political dysfunction. The same situation applies to Afghanistan, which ranks number three.
Syria and Iraq slipped down to sixth and seventh place respectively. According to a report in Britain's The Guardian, the slight drop is not due to any real improvement in conditions for Christians in those two countries, but is instead due to the fact so many of the Christians who did live there have fled. Both countries have been plagued by civil war and insurgency from the Islamic State.
Pakistan, Sudan, Eritrea, Yemen, and Iran are the other nations among the top ten others where being a Christian is most hazardous. All of these countries have a common trend of militant Islam and restricted civil liberties blending together. Iran is a theocratic state controlled by Muslim clerics. Governments in Eritrea and Yemen are unstable and have struggled to maintain order over the past year.
India has surprisingly rose to fifteenth place on the list. According to The Guardian, the reason for this is a sharp rise in Hindu nationalism and resulting mistreatment of the Christian minority. Just two percent of Indians are Christian, and many of them are from the lower castes, including the Dalits. Open Doors estimates that a church was burned down or a pastor beaten by militants on an average of 10 times per week in India during 2016—a threefold increase over 2015. The organization also claims that local and regional governments in India often quietly condone such attacks.
Open Doors develops the annual World Watch List based on various methodologies that determine the level of persecution Christians in various countries faith. Government repression, corruption, and ethnic tensions are just some of the issues that are examined in developing the rankings.
———————