Advent Devotions from LAMP now available
November 19, 2015
No Comment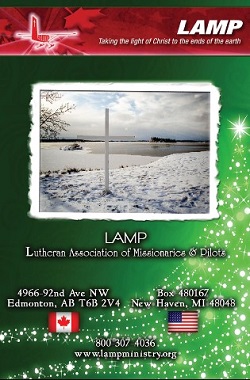 CANADA – LAMP (Lutheran Association of Missionaries and Pilots) has released their Advent devotional for 2015.
"The Advent Season is the beginning of the church year and brings another chance to share our Lord and Saviour Jesus Christ with the rest of the world as we celebrate His birth into this sinful world," LAMP USA President David Schneeberger writes in the introduction to this year's devotional. "I pray you will see and hear the love of Christ through each of the devotions written by the LAMP family, volunteers, and staff as we share the Light of the World with you during this Advent Season."
The devotional is available for download from LAMP's website at www.lampministry.org/advent/. You can also receive the devotions daily by email or request a print-copy by mail.
LAMP is a Listed Service Organization of Lutheran Church–Canada committed to "sharing Jesus Christ with God's people in remote areas of Canada." Since 1970, LAMP has provided Gospel proclamation and pastoral care throughout remote areas of northern Canada through the ministry of pastor/missionary/pilots, and short and long-term volunteers-in-mission. More than 60 communities in remote Ontario, Manitoba, Saskatchewan, and British Columbia benefit from the work of LAMP.
———————