CLTS President's new commentary on Ephesians now available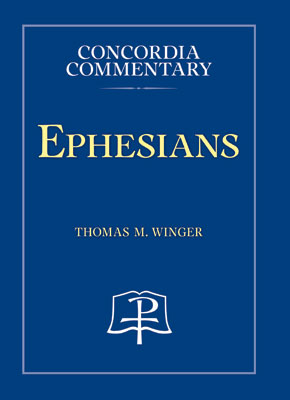 ST. CATHARINES, Ontario – In June, Concordia Publishing House (CPH) released the 28th volume of its landmark Concordia Commentary series. This volume (on Ephesians) was written by Rev. Dr. Thomas Winger, President of Concordia Lutheran Theological Seminary (CLTS) in St. Catharines, Ontario.
Dr. Winger's commentary unfolds the mysteries of the Gospel through meticulous analysis of the Greek text and reverent exposition of the epistle's proclamation of Christ and His gifts for the sake of the Church," a CPH release notes. "Winger's commentary addresses such timeless topics as our eternal election in Christ; salvation by grace through faith apart from works; one Lord, one faith, one Baptism; the gift of the Holy Ministry; the Christological meaning of marriage; and the resplendent armor of God, which we so desperately require in this time of spiritual peril."
"Although my interpretation of Ephesians is distinctive, I'm really just applying to this particular text what I've learned from my teachers," Dr. Winger noted in an interview with the Concordia Academic blog. "I see my work as part of a renewed consciousness of our Lutheran and catholic heritage, exegesis in and for the church."
"Remarkably, there has not been a major commentary on Ephesians in the past few generations that both accepts Pauline authorship and believes it was written to the church at Ephesus," Dr. Winger continued. "So, firstly, by reading the letter against what we know about the Ephesian church and Paul's ministry from Acts 18-21, I hope to offer a distinctive insight into its purpose. Secondly, I try to connect he letter's contents to the sacramental and liturgical life of the church as much as possible. I hope this makes my commentary useful for the preacher."
The full interview is available here.
On September 14, 2015 CLTS will be celebrating the publication of Dr. Winger's commentary with a conference on the Apostle Paul's message to the Church today. Lunch will be provided, and a limited number of tickets for the dinner are available for purchase. The seminary asks those wishing to attend to please register by September 1. For more information, please visit CLTS' website here, call (905) 688-2362 ext. 22, or email concordia@brocku.ca.
———————