Devotions for Lent 2016 in English and French
February 5, 2016
No Comment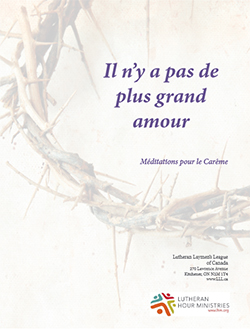 ONLINE – This coming Wednesday (February 10) marks Ash Wednesday and the beginning of Lent.
Lent is that season on the church calendar during which Christians recall Christ's journey to Jerusalem to suffer and die on Good Friday. It ends with Easter and the celebration of Jesus' resurrection from the dead. During Lent, Christians often observe special acts of self-sacrifice and repentance. They will also often undertake new spiritual disciplines, like being more intentional in prayer, studying Scripture, and reading devotions.
As they do every year, Lutheran Hour Ministries (LHM) has released a daily devotional series to mark the Lenten season. "Love's Greatest Sacrifice" follows closely the final events of Jesus' life, as detailed in chapters 22 and 23 of the Gospel of Luke. The series is also available in French as "Il n'y a pas des plus grand amour."
The English devotions are available to download now from LHM's website here. Beginning February 10, they will also be available to be viewed or listened to as a podcast online; they can also be received as a daily email. The French devotions are available from the Lutheran Laymen's League of Canada here.
Lent lasts for forty days, excluding Sundays as Sunday is the day upon which Christ rose from the dead.
———————