Edmonton seminary calls new president
October 28, 2013
One Comment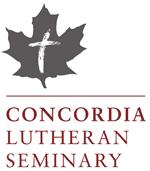 EDMONTON – The Board of Regents of Concordia Lutheran Seminary (CLS) has extended a call to Rev. Dr. James R. Gimbel to become its next president. The action was taken after the seminary's electors conducted interviews and cast their votes on Friday, October 25.
Dr. Gimbel has served as a professor at Concordia University, St. Paul, Minnesota, since 2002, where he has done extensive work in leadership and management. Prior to that he was a senior editor of youth, family, and Sunday School materials for Concordia Publishing House in St. Louis. In addition to these areas of service to the church-at-large, he was a parish pastor in North Dakota in the early years of his ministry, and has worked virtually non-stop in assisting congregations, district, and educational institutions to carry out self-studies and in conflict resolution. 
A native of Iowa, Dr. Gimbel spent his formative years in Minnesota, and received his pastoral training at Concordia Seminary, St. Louis. He was awarded a Ph.D. in 2002 from Regent University in Virginia Beach, Virginia. He is married to Jill (née Rosenwinkel), and God has blessed them with three (now adult) children: Andy, Abby, and Joanna.
Commenting on Dr. Gimbel's election, LCC President Robert Bugbee said, "I want to commend the Presidential Search Committee and all the Regents of the Edmonton Seminary for the careful way they shepherded this process forward. The electors commended this decision to the Lord, and now, with this result, we hope that people from all over our church will pray to God to give Dr. Gimbel the gift of a decision on this matter. I also take this opportunity on behalf of the Synod to offer our deepest thanks to Rev. Dr. Norman Threinen, who came out of retirement and has provided very able leadership at the seminary for almost two years. We owe him so much!"
———————